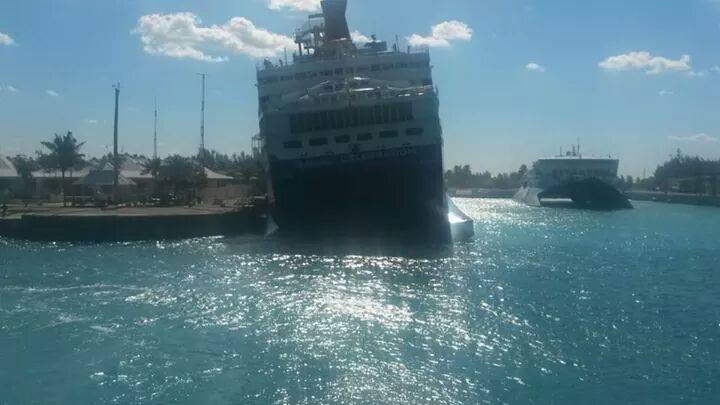 By Linda Santacruz
Palm Beach Post Staff Writer
A cruise ship leaving the Bahamas Friday night for the Port of Palm Beach was forced to turn around after the vessel struck an unknown object, officials said.
Passengers aboard the Bahamas Celebration cruise ship were asked to wear life jackets and emergency steps were taken, the company said in a news release made public Saturday. The ship returned to Freeport on Grand Bahama Island and the passengers were placed in accommodations.
There were no reported injuries. It is not known how many passengers were onboard at the time. The cruise line said that arrangements were made for passengers to return to Florida on Saturday.
"No passengers were ever in any danger and everything was handled in an organized and efficient way," the release said.
Passenger Armando Fana said disembarked around 2 a.m. Passengers later took a ferry to Miami and then were transferred to West Palm Beach, Fana said
"The Halloween trip turned out scarier than anyone anticipated," he said.
The ship, which was supposed to return to the Port of Palm Beach at 7 a.m. Saturday, will remain in the Bahamas so the damage can be assessed. The extent of the damage is not known.
Two scheduled cruises for Saturday and Monday were canceled. All booked passengers were notified and a refund or other arrangements will be made.
In 2011, the cruise line canceled a trip after a small fire occurred on board.
One of the six generators blew a rod and piston on the Bahamas Celebration resulting in an oil leak on the side of the generator and causing a small fire, the company said.
The fire was extinguished by the ship's systems. The ship, with 800 passengers on board, never lost power, and at no time were the passengers or crew in any danger, the company said.