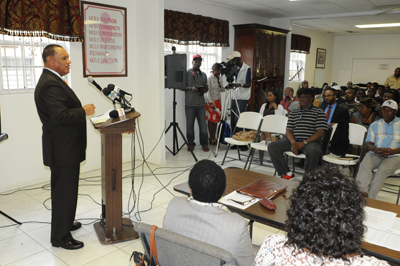 Nassau, The Bahamas – The Urban Renewal Commission has issued the first set of mobilisation cheques to over 100 contractors. At a price tag of some $360,000, the funds will be used to kick off the Small Homes Repairs Project. This exercise follows the government's recent announcement that relief would be coming soon to those whose homes were badly in need of repairs. The cheques were distributed on Wednesday, November 27 at the St. Agnes Parish Hall.
Prime Minister Perry G. Christie told contractors to carry out the works to the best of their ability.
"Urban Renewal is a very near and dear project for me. When my government came in, we said that we 'believed in Bahamians' and so this is one of the ways that my government is carrying out this promise," said Mr. Christie. "I, therefore, advise you to work with pride and to the highest of standards."
Mr. Christie told the contractors that this project may be a 'short term' one, however, next year the government will embark on a public-private partnership for the construction of hundreds of homes in The Bahamas and consequently create hundreds of job opportunities for those in the construction industry.
"This upcoming project will be big in its impact and persons such as you who are seen to do good work at this level will be given contracts to carry out those works as well," he said. "So the incentive to you is to recognise that this is a stepping stone to the programme which will be launched next year."
The Prime Minister said he believes the clean up of urban areas will spark a new way of thinking among Bahamians as they would take more pride in their environment and that would trickle into a reduction in the crime rate.
A second group of cheques will be issued next week.