Race car lovers get a new track – HOW MUCH IS THE GOVERNMENT OF THE BAHAMAS PUMP INTO THE NEW FACILITY? Do we know?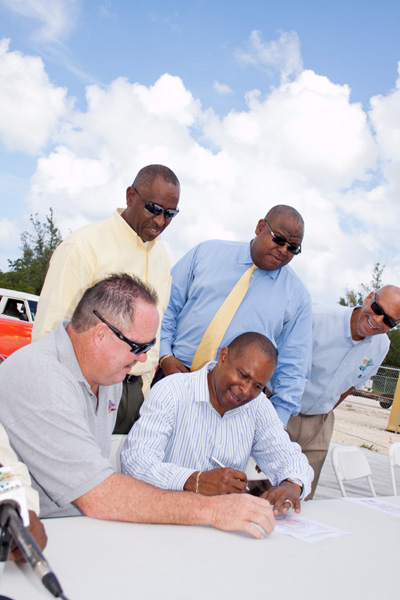 Nassau, Bahamas – A press conference was held today, September 5th, 2013  at The Bahamas International Motorsports Park at the Queen Elizabeth Sports Center Complex.  In attendance was the Minister of Youth, Sports and Culture, Minister Daniel Johnson; Frank Kohutek – Division Director, Div 2 West, 4,7;  Mr. Leroy Archer – Director of the National Sports Authority; Senator Greg Burrows; Elwood Donaldson BHRA President; Don Arranha – Founding President BHRA; Brendan Foulkes – Founding Vice President; and other executives, directors and members of the BHRA.
A milestone was marked in The Bahamas at the new Motorsports Park, dubbed "The Bahamas International Raceway". The director of the International Hot Rod Association's Southern Division,  Frank Kohutek officially sanctioned The Bahamas Hot Rod Association and its facility. The new Motorsports Park becomes the first internationally certified motorsports racing facility in the Bahamas.
The IHRA is one of the largest sanctioning bodies for motorsports in particulars to the sport of Drag Racing. It's sanctioning opens opportunities of The Bahamas Hot Rod Association in hosting international events, thus expanding The Bahamas' growing sports tourism market. It will also allow local drivers to become IHRA certified and eligible to participate in IHRA sanctioned events at any of the facilities in the US, Canada, Hawaii, Mexico or Aruba.
The President of The Bahamas Hot Rod Association thanked The Government of The Bahamas, in particular the Ministry of Youth, Sports and Culture for believing in motorsports in The Bahamas. Special thanks went to the Ministry of Works and Urban Development, IBS and Bahamas Hot Mix for the construction works being carried out in Stage 1 of the facility. The BHRA also thanked all of its past and present sponsors and members. The BHRA looks forward to return the sport of Drag Racing very shortly to The Bahamas and also develop and assist in developing other genres of motorsports in The Bahamas.
The Bahamas Hot Rod Association is the premier motorsports organization in The Bahamas. From establishment The BHRA's mandate was to develop motorsports in the country of The Bahamas and also expand sports tourism development. The mandate started with the sport of Drag Racing and was quickly becoming one of the most developed in the region. In the end of 2010 – 2011 the facility, (developed by the BHRA to international standards) was closed to allow for the construction of the new Thomas A. Robinson Stadium and road corridor under the agreement that it will be relocated in quick order by The Government of The Bahamas.