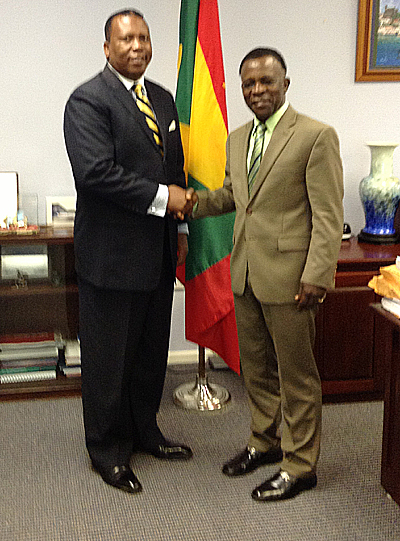 REMARKS BY
HIS EXCELLENCY PICEWELL A. FORBES
NON-RESIDENT HIGH COMMISSIONER – DESIGNATE
OF
THE COMMONWEALTH OF THE BAHAMAS
TO GRENADA
ON THE OCCASION OF
THE PRESENTATION OF LETTERS OF COMMISSION TO
DR. THE RIGHT HON. KEITH MITCHELL
PRIME MINISTER
AND
MINISTER FOR NATIONAL SECURITY, PUBLIC ADMINISTRATION, DISASTER MANAGEMENT, HOME AFFAIRS & IMPLEMENTATION
5 SEPTEMBER, 2012
ST. GEORGE'S, GRENADA
Right Honourable Prime Minister,
On behalf of the Prime Minister, the Right Honourable Perry Gladstone Christie, the Minister of Foreign Affairs and Immigration, Frederick Mitchell, the Government, and the People, of the Commonwealth of The Bahamas, I thank you for receiving my Letters of Introduction to represent The Bahamas as non-Resident High Commissioner to Grenada. I also thank you for your warm, hospitable welcome to Grenada.
I wish first to congratulate you on the recent election of your Government in February 2013, particularly as this election establishes the historic record of a Grenadian Prime Minister serving for a fourth term.
While The Bahamas and the Caribbean share many commonalities, in reflecting on the history of Grenada, I found myself reminded ofthe importance of regional bilateral exchange which both complements and supplements multilateral engagement; In this regard, it gives me much pleasure to resume the post formerly held by His Excellency, Mr. Leonard Archer.
Underscoring the importance of maximisingsuch relations is the ability to mutually benefit from the experiences of a regional nation which shares many of the same interests and concerns as The Bahamas. One need only look at our primary industry, tourism, to find immediate parallels for strengthened partnership between our two countries.
More importantly, as the world moves toward more viable approaches to crucial aspects ofsustainability, initiatives that address issues related to energy, climate change, the environment and socio-economic development, are becoming increasingly more necessary. Grenada, in several of these areas, has made commendable strides. Of particular note is the emphasis on renewable energy, eco-tourism and the more recent strategy, in collaboration with Germany, to mitigate climate change.
These issues, which are of special concern to vulnerable Small Island Developing States, are uniquely poised to be brought to the forefront during the United Nations General Assembly, presided by an esteemed National of a CARICOM Member-State.
Likewise, as The Bahamas moves toward accession to the World Trade Organisation, from an economic and trade standpoint, the practical experience of Grenada, which has been a Member of the Organisation since 1996, will prove invaluable in assisting our Country to meet the necessary arrangements for effective membership.
Similarly, there is much to be jointly gained from enhanced cultural exchange. From Junkanoo to Spicemas, many of our festivals and celebrations tell different stories of a shared history. In the future, I look forward to the opportunity to participate in many such events in Grenada and throughout the region.
Prime Minister,
I again wish to thank you for welcoming me into your country as The Bahamas' High Commissioner to Grenada. As the Fourth CARICOM – Cuba Meeting of Foreign Ministers commences tomorrow, it is with the confidence of both the sum, and the individual parts, that make up our Community. I thank you.