Memorial service announced for 11th September, 2013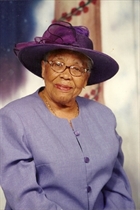 Nassau, The Bahamas – The Hon. Jerome Fitzgerald, Minister of Education, Science and Technology, expresses condolences to the family of the late Mrs. Emma Cooper nee Carey, a veteran educator and an individual who served with distinction during her career in education. Minister Fitzgerald noted that Mrs. Cooper will forever be known for her contribution to education particularly, on the island of Eleuthera and her willingness to go where she was required to serve.
From a very early age, Mrs. Cooper exhibited promise in her studies. She gained entry into the Government High School in 1938 and graduated in 1941. She started her teaching career in January 1943 at Quarry Mission in New Providence and within that year, she also taught at the Western Junior and Western Senior Schools. Mrs. Cooper returned to her home island in January 1944 where she was posted at the Rock Sound All Age School. She taught at several schools including the James Cistern All Age School and the schools at Tarpum Bay, Savannah Sound and Palmetto Point respectively.
The people of Eleuthera and indeed The Bahamas are grateful to Mrs. Cooper for not allowing the scarcity of materials or other adverse conditions to diminish her zeal for teaching. After her marriage to Mr. Addington Cooper; Mrs. Cooper was transferred to her home settlement of Tarpum Bay where she taught for twenty four years and nine months until she officially retired.
After retirement Mrs. Cooper continued to teach and impact the lives of countless Eleutherans. In 1978, she was honoured by the Primary Principals Association and by the Government with the Empire Medal for Long Service in the field of Education. In 1985, the Government again recognised her for contributions to education by renaming the Palmetto Point All Age School to the Emma E. Cooper All Age School in her honour.
Mrs. Cooper is survived by three daughters, Mrs. Evelyn Sawyer, Mrs. Arlene Collie, Mrs. Sherrilyn Thompson, son, Mr. Addison Cooper and other relatives. A memorial service will be held at 7:30 p.m. on Wednesday, 11th September, 2013 at Trinity Methodist Church.