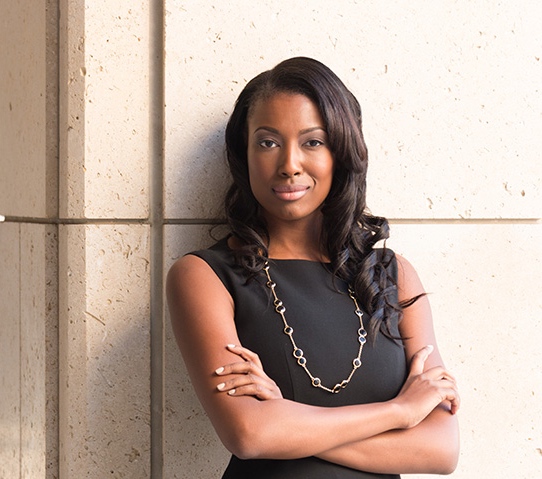 Aisha Bowe, a Bahamian-American aerospace engineer who is the recipient of the 2015 US Women's Chamber of Commerce "Emerging Star" award, will be visiting Nassau, Bahamas as the keynote speaker for the Eta Psi Omega Chapter of Alpha Kappa Alpha Honours Day Scholarship Program being held on Sunday, March 29, 2015.
Ms. Bowe stated, "Nassau holds a special place in my heart, and I am honored to be invited to speak to the scholars at the Eta Psi Omega chapter of Alpha Kappa Alpha Sorority, Inc. annual Honours Day event".
At only 29 years old, Aisha serves as the CEO and co-founder of STEMBoard, a technology solutions company that is also committed to exposing and encouraging young people everywhere and particularly in the Bahamas to participate in Science, Technology, Engineering and Math (STEM) related careers.
"I am incredibly happy that the women of Alpha Kappa Alpha have not only recognized the Bahamian scholars who have excelled in school, but they have also asked me to speak to the theme of non-traditional careers, a subject that I am incredibly passionate about. I am excited to continue my mission and commitment to expose the Bahamian students to the myriad opportunities that exist for those who pursue STEM careers."
The granddaughter of Forester Bowe of Exuma, Ms. Bowe has deep ties to the region with the majority of her family members living in Nassau. For the past few years, STEMBoard and Aisha have supported existing STEM activities and this summer Aisha and the distinguished STEMBoard team are looking forward to spearheading their 2nd technology camp for the youth of the Bahamas at no cost to the participants. For more information visit www.stemboard.com
"My grandfather always instilled in me the values of hard work, something he learned while growing up here in the Bahamas and I am dedicated to continuing that legacy by leading by example. It is important that I reach back and teach the young people of the Bahamas to dream big."
Prior to founding STEMBoard, Aisha was an aerospace engineer at NASA's Ames Research Center in Silicon Valley. Aisha has received numerous awards for her dedication to technical excellence and the principles of diversity and opportunity including: U.S Women's Chamber of Commerce "Emerging Star" Award, NASA's Engineering Honor Award, Silicon Valley's National Coalition of 100 Black Women's Women in Technology of the Year Award and The National Society of Black Engineers (NSBE) 21st Century Trailblazers in Aviation and Aerodynamics Award.
Among her professional affiliations, she is a member of the National Society of Black Engineers and the American Institute of Aeronautics and Astronautics. She holds a Bachelors degree in Aerospace Engineering and a Masters degree in Space Systems Engineering from the University of Michigan.