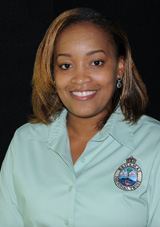 Nassau, Bahamas – The Bahamas National Trust (BNT) is pleased to announce the hiring of Astra Armbrister-Rolle as Director of Development. Armbrister-Rolle is a fundraising professional in the non-profit sector, specialising in annual giving management, prospect development and donor stewardship. She is a graduate of McMaster University and a member of the Association of Fundraising Professionals.
She worked as the Programme Centre Manager for the University of Waterloo in Ontario where she recruited and trained student volunteers, optimised the university's advancement plan by conducting statistical analysis and managed the telephone fundraising programme for the University. Her most recent position at Ashbury College in Ottawa was as the Manager of Annual Giving where she initiated and implemented an effective stewardship plan for annual giving as well as coordinating a volunteer structure to lead the annual giving programme.
"We are very excited that Astra was willing to return to The Bahamas and join the Bahamas National Trust," said Larry Glinton, BNT President. "Her experience in donor stewardship was particularly attractive for us, as we want our donors to feel appreciated and valued for their support of our national parks and education programmes."
In her new role as Director of Development, Armbrister-Rolle will be developing and implementing the BNT's advancement strategy, overseeing membership and coordinating volunteer leadership for the BNT's fundraising programmes and major campaigns. "It is very exciting to be back in The Bahamas working with an organisation that has been so influential in creating a national park system that is preserving our biodiversity for future generations of Bahamians," said Armbrister-Rolle.
"Supporting these parks, monitoring the resources they protect, providing and maintaining infrastructure for park access is a monumental task that needs the support of the entire community: corporations, key stakeholders and individuals" she added. "I look forward to working with the Government, the BNT staff, our board, and the supportive BNT members to ensure that we are all doing our part in protecting our future."
To learn more about the BNT's parks and how you can help protect them visit their website at www.bnt.bs or follow them on Facebook, Twitter or Instagram.
The Bahamas National Trust was created by an Act of Parliament in 1959 to build and manage the national park system of the Bahamas. Possibly the only non-governmental organization in the world charged with such a responsibility the TRUST, as it is commonly known works daily to conserve and protect the natural resources of The Bahamas, through stewardship and education for present and future generations. There are currently 27 National Parks managed by the TRUST with more than 2 million acres of marine and terrestrial areas protected. Website: http://www.bnt.bs/