There is no corporate sponsor helping Bahamians like BTC! BTC iVolunteers Deliver Meals, Groceries to Gambier Community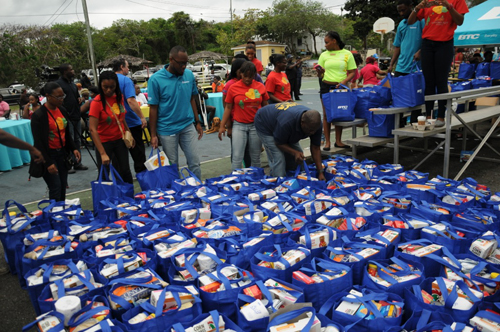 By Chauntez A. Wilson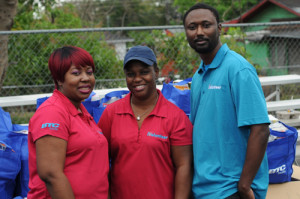 NASSAU, N.P – Honoring a pledge to tackle hunger by feeding Bahamians that need it most, the BTC iVolunteer Team, a group of dedicated BTC employees that donate their time and talent to the community, prepared bags of groceries and delivered hot meals to over 200 families in need in the Gambier Community.
BTC is no stranger to the Gambier community. For the last two Christmas holidays, the iVolunteer team has provided hot Christmas meals for residents without means. For this event, in an effort to spread the spirit of charity, the iVolunteers also invited the BTC sponsored Junior Achievement team, BTC Flight 242, along with the Key Club to assist with the distribution of the items and to meet and greet the friendly residents.
The event was a part of a larger series of iVolunteer initiatives that addresses hunger by providing meals and groceries in underprivileged communities and institutions throughout the Bahamas. This includes scores of schools and communities in New Providence, namely, Mother Pratt Park, Thelma Gibson, E.P. Roberts and R.M. Bailey High School. Recently, the team also delivered grocery items to the Nazareth Home for Children and the Persis Rodgers Home for the Aged. Since the program's inception in 2012, BTC's iVolunteer team has provided over 2000 hot meals to Bahamians in need.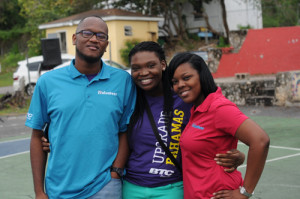 "1 in 6 Bahamians is living with chronic hunger," stated Eldri Ferguson-Mackey, BTC's Vice President of Marketing. "And children and the elderly are the most vulnerable; 50% of Bahamians living in poverty are under the age of 14. BTC is committed to its effort to be a good corporate citizen and part of our civic mission is to improve the lives of others in the Bahamas. Through our efforts at Gambier Village, the Nazareth Home for Children, the Persis Rodgers Home for the Aged, and all of our ongoing food distribution events, BTC iVolunteers hope to take a bite out of chronic hunger and alleviate this issue in our country, bit by bit. This year, the iVolunteer Team will continue on its course to improve the lives of others through its outreach efforts."
The iVolunteer Team extends their thanks to the BTC JA students and the Key Club for their tremendous efforts and assistance in these events. Very special thanks also go to the Royal Bahamas Police Force who provided police presence for the duration of the event.