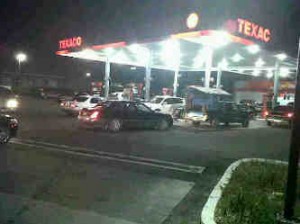 BREAKING NEWS GAS CRISIS <<< BAHAMAS PRESS CAN CONFIRM AS OF 9PM TONIGHT WHEN GAS RUNS OUT, ALL RETAILERS WELL SHUT DOWN OPERATIONS AND STRIKE IN THE CAPITAL. THE DECISION COMES AS A GAS MARGINAL INCREASE REQUEST HAS BEEN REJECTED BY THE GOVERNMENT!
NASSAU, BAHAMAS — Bahamas Press is staking out at stations where a gas crisis is developing across the country.
Tonight retailers were locked down in meetings with the government seeking an increase on margins as the station owners are threatening a shut down tomorrow if the government does not accede to their request.
Gas at Texaco and Shell is pegged at $5.55 per gallon, while Esso is $5.39.
At this hour stations all across the country are experiencing long winding lines and some stations have already ran out of gas.
Esso west on Carmichael Road is experiencing the longest traffic jam ever with cars backed up to the est as far as Bamboo Shack, almost a half a mile, awaiting full up.
Texaco Milo Butler Highway is in such chaos, traffic is backed up on to the highway and to bring order to the station only a number of vehicles are being allowed on the property. Motorists at that location are parked alongside the entrance of the station with hazard lights flashing.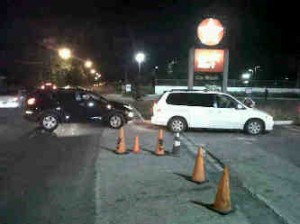 In the east we are told Shell has imposed a $15 maximum purchase and the traffic chaos in the area is unmanageable, with some vehicles running out of gas waiting on service. No conclusion has come out of the meetings tonight.
With COB teachers on notice, Public Servants on work to rule, chaos at the hospitals crippled by the Dengue Epidemic, scrap-metal dealers out of a job with no money in sight for the back to school rush; the country is crippled with record-breaking murder and slaughter of women. The country is on AUTOPILOT! The Cabinet of the Bahamas has not met in two weeks and PAPA cannot trust BOSS HOG, BRENT SYMONETTE! WHO IS RUNNING THE DAMN COUNTRY?
BP is live on the streets tonight amidst the crime and chaos.