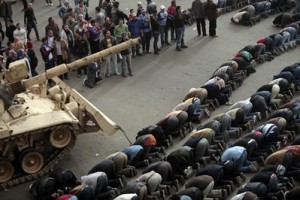 Seventeen 17 dead at last report

…

By HAMZA HENDAWI, Associated Press Hamza Hendawi, Associated Press – 1 hr 27 mins ago

CAIRO – With protests raging, Egypt's president named his intelligence chief as his first-ever vice president on Saturday, setting the stage for a successor as chaos engulfed the capital. Soldiers stood by — a few even joining the demonstrators — and the death toll from five days of anti-government fury rose sharply to 74.

Saturday's fast-moving developments across the north African nation marked a sharp turning point in President Hosni Mubarak's three-decade rule of Egypt.

Residents and shopkeepers in affluent neighborhoods boarded up their houses and stores against looters, who roamed the streets with knives and sticks, stealing what they could and destroying cars, windows and street signs. Gunfire rang out in some neighborhoods.

Tanks and armored personnel carriers fanned out across the city of 18 million, guarding key government buildings, and major tourist and archaeological sites. Among those singled out for special protection was the Egyptian Museum, home to some of the country's most treasured antiquities, and the Cabinet building. The military closed the pyramids on the outskirts of Cairo — Egypt's premier tourist site.

But soldiers made no moves against protesters, even after a curfew came and went and the crowds swelled in the streets, demanding an end to Mubarak's rule and no handoff to the son he had been grooming to succeed him.

"This is the revolution of people of all walks of life," read black graffiti scrolled on one army tank in Tahrir Square. "Mubarak, take your son and leave," it said.

Thousands of protesters defied the curfew for the second night, standing their ground in the main Tahrir Square in a resounding rejection of Mubarak's attempt to hang onto power with promises of reform and a new government.

Police protecting the Interior Ministry near the site opened fire at a funeral procession for a dead protester, possibly because it came too close to the force. Clashes broke out and at least two people were killed.

A 43-year-old teacher, Rafaat Mubarak, said the appointment of the president's intelligence chief and longtime confidant, Omar Suleiman, as vice president did not satisfy the protesters.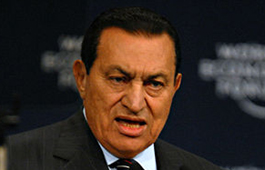 "This is all nonsense. They will not fool us anymore. We want the head of the snake," he said in the Mediterranean port city of Alexandria. "If he is appointed by Mubarak, then he is just one more member of the gang. We are not speaking about a branch in a tree, we are talking about the roots."
The crackdown on protesters has drawn harsh criticism from the Obama administration and even a threat Friday to reduce a $1.5 billion foreign aid program if Washington's most important Arab ally escalates the use of force.
Thousands of passengers were stranded at Cairo's airport as flights were canceled or delayed, leaving them unable to leave because of a government-imposed curfew. Several Arab nations, meanwhile, moved to evacuate their citizens.
The cancelations of flights and the arrival of several largely empty aircraft appeared to herald an ominous erosion of key tourism revenue.
The protesters united in one overarching demand — Mubarak and his family must go. The movement is a culmination of years of simmering frustration over a government they see as corrupt, heavy-handed and neglectful of poverty.
Egyptians were emboldened by the uprising in Tunisia — another North African Arab nation, and further buoyed by their success in defying the ban on gatherings.
At the end of a long day of rioting and mass demonstrations Friday, Mubarak fired his Cabinet and promised reforms. But the demonstrators returned in force again Saturday to demand a complete change of regime.
The president appeared to have been preparing his son Gamal to succeed him, possibly as soon as presidential elections planned for later this year. However, there was significant public opposition to the hereditary succession.
The appointment of Suleiman, 74, answers one of the most intriguing and enduring political questions in Egypt: Who will succeed 82-year-old Mubarak?
Another question is whether his appointment will calm Egypt's seething cities.
Mubarak appointed Suleiman shortly after the U.S. said he needed to take concrete action to achieve "real reform." Suleiman is well known and respected by American officials and has traveled to Washington many times.
Before word that Mubarak had picked his first vice president, State Department spokesman P.J. Crowley said the U.S. wanted to see Mubarak fulfill his pledges of reform.
"The Egyptian government can't reshuffle the deck and then stand pat," Crowley said on his Twitter account. "President Mubarak's words pledging reform must be followed by action."
As the army presence expanded in Cairo Saturday, police largely disappeared from the streets — possibly because their presence seemed only to fuel protesters' anger. Egyptian police are hated for their brutality.
On Friday, 17 police stations throughout Cairo were torched, with protesters stealing firearms and ammunition and freeing some jailed suspects. They also burned dozens of police trucks in Cairo, Alexandria and Suez. On Saturday, protesters besieged a police station in the Giza neighborhood of Cairo, looted and pulled down Egyptian flags, then burned the building to the ground.
There were no clashes reported between protesters and the military at all, and many in the crowds showered soldiers with affection.
One army captain joined the demonstrators in Tahrir Square, who hoisted him on their shoulders while chanting slogans against Mubarak. The officer ripped apart a picture of the president.
"We don't want him! We will go after him!" demonstrators shouted. They decried looting and sabotage, saying: "Those who love Egypt should not sabotage Egypt!"
Some 200 inmates escaped a jail on the outskirts of the city, starting a fire first to cover their breakout. Eight inmates were killed during the escape.
On Saturday, feelings of joy over the sustained protest mingled with frustration over the looting and Mubarak's refusal to step down.
"To hell with Mubarak; We don't serve individuals. We serve this country that we love, just like you," yelled another soldier to protesters from atop a tank scrawled with graffiti that said: "Down with Mubarak!"
Like Mubarak, Suleiman has a military background. The powerful military has provided Egypt with its four presidents since the monarchy was toppled nearly 60 years ago. He has been in charge of some of Egypt's most sensitive foreign policy issues, including the Palestinian-Israeli peace process.
Suleiman, additionally, is widely seen as a central regime figure, a position that protesters were likely to view with suspicion.
Mubarak also named his new prime minister Ahmed Shafiq, the outgoing civil aviation minister and fellow former air force officer.
Both appointments perpetuate the military's overriding role in Egyptian politics.
Suleiman's frequent trips to Israel could be held against him by a population that continues to view the Jewish state as a sworn enemy more than 30 years after the two neighbors signed a peace treaty.
With the two occupying the country's most important jobs after the president from the military, Gamal, a banker-turned-politician, appears out of the running for his father's job.
A leaked U.S. diplomatic memo said Gamal and his clique of ruling party stalwarts and businessmen were gaining confidence in 2007 about controlling power in Egypt and that they believed that Mubarak would eventually dump Suleiman, who was seen as a threat by Gamal and his coterie of aides.
Gamal launched his political career within the ranks of the ruling National Democratic Party, climbed over the past 10 years to become its de facto leader, dictating economic policies and bolstering his own political standing.
Gamal's close aide and confidant, steel tycoon Ahmed Ezz, resigned from the party on Saturday, according to state television. Gamal and Ezz are suspected of orchestrating the rigging of the last parliamentary election in November, making sure the ruling party won all but a small fraction of the chamber's 518 seats.
"There is nothing short of Mubarak leaving power that will satisfy the people," Mohamed ElBaradei, the country's leading pro-reform activist told The Associated Press on Saturday. "I think what Mubarak said yesterday was an insult to the intelligence of the Egyptian people."
Buildings, statues and even armored security vehicles were covered in anti-Mubarak graffiti, including the words "Mubarak must fall," which by morning had been written over to say "Mubarak fell."
The military extended the hours of the night curfew imposed Friday in the three major cities where the worst violence has been seen — Cairo, Alexandria and Suez. State television said it would begin at 4 p.m. and last until 8 a.m., longer than the 6 p.m. to 7 a.m. ban Friday night that appeared to not have been enforced.
The Internet appeared blocked for a second day to hamper protesters who use social networking sites to organize. And after cell phone service was cut for a day Friday, two of the country's major providers were up and running Saturday.
In the capital on Friday night, hundreds of young men carted away televisions, fans and stereo equipment looted from the ruling National Democratic Party, near the Egyptian Museum.
Others around the city looted banks, smashed cars, tore down street signs and pelted armored riot police vehicles with paving stones torn from roadways.
Banks and the stock market will be closed on Sunday, the first day of the week, because of the turmoil.
_____
AP reporters Sarah El Deeb, Maggie Michael, Margaret Hyde in Cairo and Hadeel Al-Shalchi in Alexandria, Egypt, contributed to this report.