COP of Police, Ellison Greenslade is under attack by the FNM and WUTLESS MEDIA DEM!
Urban Renewal is working and the FNM – who had no plan for crime – is SHAMED!
Nassau, Bahamas — Today, without shame, the defeated MP for Marco City and rejected FNM candidate for Fort Charlotte, Zhivargo Laing, went on a criminal rampage to attack a good decent policeman in the person of Commissioner Ellison Greenslade, who is affirming that Urban Renewal 2.0, the Vision of a visionary leader Perry Gladstone Christie, is working.
Greenslade went further to conclude that the programme had and is once again already making a serious dent in crime in rebel communities across the country.
Senator Laing in his commentary this morning said, "Working based on what?  Working doing what? Working to push down houses, remove derelict vehicles or clear down bushes?  These may be useful things to do but are they bringing down murder, rape or robberies?  Is the Commissioner of Police saying that they are bringing down crime in these areas and if so, where is his statistics to support same?  Is it making Bahamians across the Bahamas feel safer?"
Prior to Laing's repugnant but challenging statement this morning, the Nassau Guardian decided to also do combat with Greenslade, asking and begging the same questions and, in a report on NB12 last night, even drew charts to prove that what Greenslade was saying and suggesting about the stats on crime in the Bahamas was not true.
We find the inseparable relationship between the wutless media and the FNM to be beyond platonic. Some would suggest that the violent affection they now possess one for the other is indeed erotic.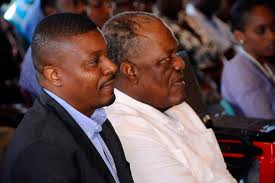 Bahamas Press is of the view that no matter what they say, the FNM's blue-eyed child [WUTLESS MEDIA] would always have their back, and here's what we mean.
Ten days before the May 7th General Elections [April 27th, 2012], this is what the Nassau Guardian wrote under the headline: 'Crime in Bahamas down six percent':
"Crime in The Bahamas is down six percent overall for the first four months of 2012 compared to the same period last year, according to statistics released by the Royal Bahamas Police Force on Wednesday.
"There were 3,855 cases of crime reported to the police between January 1 and April 24 last year, and 3,628 reported so far this year.
"Cases of murder, attempted murder, rape, attempted rape and unlawful sexual intercourse are all down.
"Murder is down five percent. Forty murders have been reported so far for the year.
"Attempted murder is down 40 percent; five cases were reported in the period in question last year and three so far this year
"Reported rapes are down six percent; 35 cases were reported during the period in 2011 and 33 reported so far this year.
"Attempted rape is down 78 percent with nine cases reported last year this time and two reported so far this year.
"Unlawful sexual intercourse is down by five percent with 63 cases reported this time last year and 60 reported so far this year." – http://www.caribbeannewsnow.com/topstory-Crime-in-Bahamas-down-six-percent-10683.html –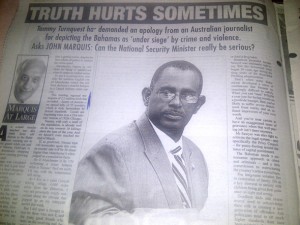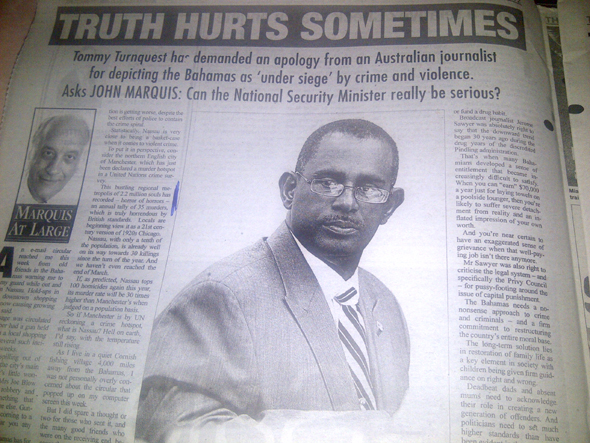 The Guardian reporter, added, "Minister of National Security Tommy Turnquest recently said crime is trending downwards and touted increased initiatives by the Free National Movement administration, including a package of anti-crime bills tabled in the House of Assembly late last year."
Since many in the FNM, including Zhivargo Laing, are of the opinion that crime is not going down, we wonder if he is also saying that the COP's Office statement issued in April is also untrue. If that is the case, then why didn't he and the Nassau Guardian protest back in April as they are doing now?
We will say it again: they [FNM and the WUTLESS MEDIA DEM] have not yet come to terms with their new position in life. And here is a classic case where they are caught "red-handed" in the sheets.
When the RBPF issued its downward trending crime numbers, it was also at the same time that the United States of America was producing a 2011 report, which suggested that Crime in the Bahamas was spiraling upwards.
The management of Crime was so terrible in the country that on March 15 a new travel advisory by the US alerted all of its citizens here in the country about the dangers of living in the Bahamas. In case Laing and the Guardian forgot, here's what a portion of that report said:
"The U.S. Embassy is transmitting the following message to advise U.S. citizens in The Bahamas of incidents related to vehicle accidents and robberies. U.S. citizens should be aware in order to plan accordingly.
"There have been several recent reports in the local media of armed robberies on New Providence Island involving staged vehicle accidents as a ruse to rob the driver and passengers of their possessions.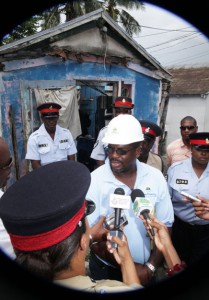 "According to media reports, in recent cases robbers have either hit or bumped the victim's vehicle from behind or stopped quickly to cause an accident.
"Once the cars are stopped, they will approach the driver with weapons in an attempt to rob the driver and passengers.
"There is no indication that U.S. citizens are specifically being targeted for these crimes. However, the U.S. Embassy would like to remind U.S. citizens to be extra vigilant when involved in a vehicle accident and to keep windows and doors locked until you are able to assess the situation."
When this same report was issued, Bahamians were unaware of the US circular and neither The Nassau Guardian nor any of the other 'WUTLESS MEDIA DEM' at the time broke the story. It was first reported here on BP.
That report was also followed up by a documentary by an Australian journalist who painted the town red with crime in a film telling horrid story after story of the violent crime situation unfolding in the Bahamas under an FNM government.
The FNM produced four years of record murder rates, where more than 490 persons were killed under their one term between 2007 – 2012. They presided over the fact that more than 309 plus persons were out on bail for murder and managed a crippled judicial backlog, which resulted in less than 20 convictions for persons committing those crimes.
Here's another fact: In July 2011, the bloodiest year on record ever in the Bahamas, some 27 persons were murdered in that single month. This amounts to a murder taking place  nearly every day in the country in that month alone while Tommy Turnquest presided as minister
The FNM failed the Bahamian people BIG TIME! Men, women and children were allowed to be slaughtered all over the country and where was the Guardian statistical data then? In many cases they [Da wutless media dem] refused to report it!
It's UNBELIEVABLE!

Urban Renewal returned less than six weeks ago, and look at the results. So far for the month of July 2012, less than 9 persons have been murdered. Now if that isn't progress, someone please tell BP and the Bahamian People what it is? Well, we tell yinner long time Laing can't count – 49% to him is the same as 51% – check his record! To him, a $36,000 housing allowance paid to him was only $6,000 according to him.
Bahamas Press stands with the vision of the Christie-led Government on Urban Renewal 2.0! We applaud the stellar performance of the Minister of National Security and his Minister of State. We lay praise and accolades on The Social Services Minister for the work done thus far. We salute Rodney Moncur who is intimately involved in Urban Renewal work – the face of the DNA who agreed that the programme is indeed working! And we prostrate in honour to our SUPER COP Commissioner of Police Ellison Greenslade and his fine men and women, who are making music ring above the noise of the once loud gunshots in our communities around the country.
You all must be congratulated and Praised!
We report Yinner decide!