Duda owes the Bahamas Government thousands in docking fees – with last payment dating back 15 years – WHAT A THIEF!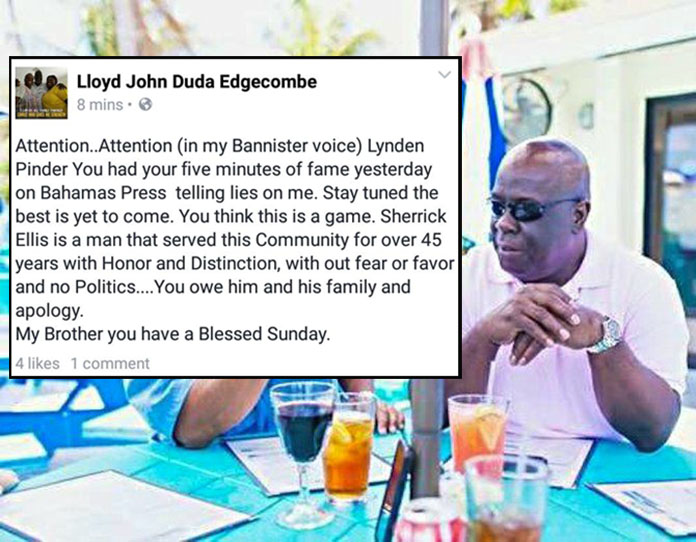 Bimini – Bahamas Press has landed on the island of Bimini where we have now opened an investigation of corruption and victimization by operatives connected to the Free National Movement Government.
We can report that a meeting by area MP Pakeisha Parker and rejected Chief Councillor Lloyd Duda Edgecombe has resulted in the removal of decent Island Administrator Kate Williamson. Now here are the details.
Williamson, who brought a high level of professionalism, decorum and style to the Administration of Bimini, came under fire after she ordered rogue wicked FNM generals Lorrick Roberts and Duda Edgecombe to clean up their act on the island.
In the case of Roberts, Williamson ordered him to remove tons of rotten broken down golf carts near the BTC offices. The garbage had been an eyesore for years before Williamson ordered the cleanup in the name of good pristine governance.
In the case of Duda Edgecombe, Williamson, in an effort to meet budgets and run the island with the mandate and protocols as set out by the Minnis Administration to stop the stealing, has ordered Lloyd Duda Edgecombe to pay all taxes owed to the Government from his operations, which we understand had not been paid since Sherrick Ellis was the island Administrator the last time. Duda owes the Bahamas Government thousands in docking fees, with the last payment dating back 15 years – WHAT A THIEF!
In the end both Roberts and Edgecombe has brought pressure on the island MP to have the Administrator removed from the island and reassigned. WHAT CORRUPTION!
Duda Edgecombe – you all will remember – was the same person when serving as Chief Councillor [around 2011] had made a requested payment of some cheap swings costing taxpayers some $54,810 on Bimini. A BP investigation later discovered that the equipment [swings] were all donated by a private citizen unknown to the residents and central government at the time. And yet funds were drawn down from the government to pay for the items through the former Island Administrator Oscar Munroe. WHAT A THIEF!
We understand, in pushing out Administrator Williamson, Duda Edgecombe wants former administrator Sherrick Ellis to replace her. Well, we have news for him: Ellis is 71 and will be 72 come December. He is a retiree and, according to Prime Minister Rt. Hon. Hubert A. Minnis, there will be no double dipping under his leadership.
BP will watch these developments and will await the government conclusion on this breaking development. Will PM Minnis and Cabinet side with corrupt rogue FNMs like Duda dem, or will they protect decent, accountable transparent leadership in the person of Administrator Kate Williamson.
MORE TO COME!
We report yinner decide!