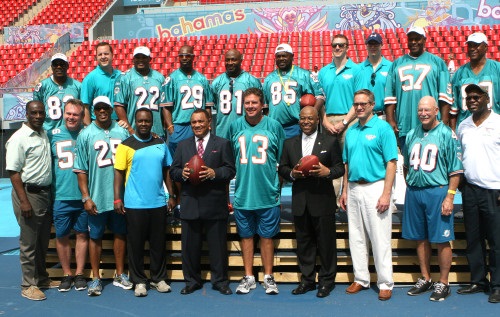 Nassau, Bahamas – About 18 Miami Dolphins Legends, their families and friends are expected to touch down in The Bahamas this month as they participate in the second annual Dan Marino And Friends Weekend.
The event, which is scheduled for February 19-22, 2015, is part of an ongoing partnership between the Ministry of Tourism and the Miami Dolphins.
During the weekend, fans will have an opportunity to play golf with Miami Dolphin legends at the Ocean Club, enjoy a sunset cruise, participate in a Youth Football Clinic at the Thomas A. Robinson National Stadium and see a Miami Dolphins Legends game at the stadium.
Miami Dolphins Legend Nat Moore says the cornerstone of the event is the Youth Clinic in which officials are hoping to see at least 300 youth learn from pros like Dan Marino, Mark Clayton and Mark Duper among others.
"We are coming together to teach the kids football fundamentals, motivate them and do the right things," he said.
"We are encouraging all the Bahamians to come out and be a part of this weekend. It's good when we come down but it is also better when we meet all of the Bahamian people and make friends and it gives us incentives to keep coming for more than just an event."
Former Miami Dolphin Linebacker Twan Russell, who is leading the charge in the Youth Clinic, said the participants can expect years of football experience at their fingertips.
"We are excited about doing this because the last time we did it we found that the kids wanted to learn. And we are excited to return to see if the kids retained what we taught them. Who knows? We might be building the next football star coming out of here. But at the end of the day it is about giving a positive message," he said.
"When we come over there is so much kindness given to us. But so many life lessons are learned on the football field. One of the kids might fall and we have to tell them 'In life you are going to fall but you have to get up and try again.'"
Mr. Moore, who has been visiting The Bahamas for over 40 years, said the event brought in just over 100 persons to The Bahamas last year.
He added that officials are hoping to build on that success.
"It's the people, the hospitality, friendliness and the culture and just to keep coming back with a bunch of friends and legends, just to bring a game of this magnitude – it's about having a good time," he said.