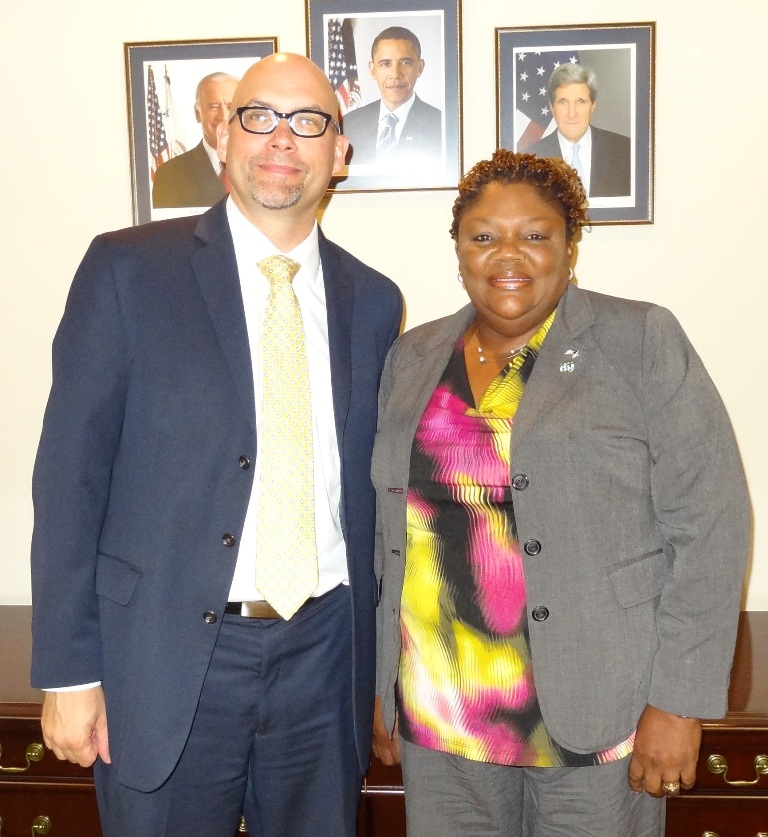 On Tuesday, May 7, Ms. Theresa McPhee, Secondary Education Officer in the Ministry of Education met with the U.S. Embassy's Acting Deputy Chief of Mission, John Lowell Armstrong to discuss her recent participation in a professional exchange focused on Science and Technology Education in the U.S.  The visit was sponsored by the U.S. Embassy through the U.S. Department of State's Bureau of Education and Cultural Affairs.
Ms. McPhee shared insights from her meetings in Washington, D.C., San Antonio, Boston, Philadelphia and Portland from April 8-16, 2013, where she had an opportunity to explore how the U.S. system of education is organized and how curricula is developed and implemented to improve math and science instructional practices. Ms. McPhee also had the opportunity to observe policy initiatives and public/private partnerships firsthand that are designed to accelerate student learning in Science, Technology, Engineering, and Math (STEM) subjects, especially for students from diverse backgrounds. Ms. McPhee's three week visit also included meetings at Microsoft's Innovations Center, the Discovery Education Center, the STEM Education Coalition and the National Science Teachers of America Conference.
Ms. McPhee's visit was coordinated by the International Visitor Leadership program; a prestigious worldwide U.S. government program which takes professionals in critical fields to the United States to network with counterparts and to learn more about America and its policies.  The meeting with the U.S. Embassy's Acting Deputy Chief of Mission served as an opportunity to gain insights on the key issues impacting the field of education in The Bahamas and to identify ways that the U.S. Embassy may be able to partner with the Ministry of Education on education-related efforts.