CHRISTIE'S NEW DAY VISION FOR BAHAMAS REAPING REWARDS ALREADY FOR BAHAMIANS!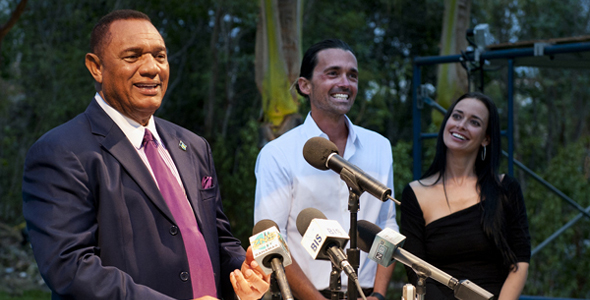 CHRISTIE: We believed in his (Sidney's) vision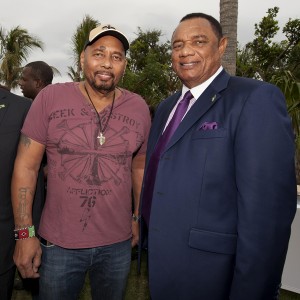 Eleuthera, Bahamas – The Cove, Eleuthera's first day as the Bahama's newest resort will be hard to top. Guests at yesterday's exclusive grand opening event were treated to a sunset affair that began with seaside delicacies such as conch salad, lobster and a visit from Bahamas Prime Minister Perry Christie.  The Prime Minister spoke to a crowd of approximately 500 guests, marking the official opening of the 40-acre  luxury resort.
"We believed in his (Sidney's) vision," Christie told reporters as he toured the property. The Prime Minister visited The Cove, Eleuthera frequently during its construction. "As we saw the place developing we had more and more confidence in this place."
Developer Sidney D. Torres, IV welcomed his guests, many of whom were the first to stay in the resort's brand new accommodations.  "There's something about Eleuthera that is special and it's the people who are special. I promise you we are going to make [The Cove, Eleuthera] the best in the world and it will be because of the people," he told guests as he spoke on the resort's newly planted cashmere zoysia lawn.
Torres was heavily involved in The Cove's design, development and construction.  An experienced hotelier from New Orleans, Torres bought the property in July and has worked tirelessly planning and executing what he has termed a "rebirth" of the property which has been a mainstay of the island since 1969.   Torres personally managed every detail, completing 60 rooms in 10 months with an additional 60 rooms scheduled to come online in the fall.
Msgr. John Johnson closed the presentation with a blessing of the property, with Torres and his fiancé Jennifer Savoie participating.  The Dirty Dozen Brass Band of New Orleans escorted guests to the infiniti pool deck with a traditional New Orleans second line, symbolic of Torres' fondness for New Orleans.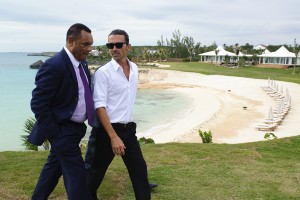 New Orleans Grammy award-winning vocalist Aaron Neville serenaded guests with hits such as Yellow Moon, Everybody Plays a Fool, Don't Know Much at the invitation-only affair.  "It's beautiful, wonderful," Neville said before his performance tonight. "I'm thinking of coming back here for vacation…the scenery is out of sight. It's tremendous, it's laid back, it's way cool."
Torres spared no expense in his remake of The Cove, Eleuthera and is offering the use of his personal plane to fly guests from Ft. Lauderdale Executive Airport to the island, as part of an exclusive amenity package.
Additional amenities include 500+ thread count bedding, iPod docking stations, 50" flat screen televisions, wireless internet access, in-room safes, Nespresso coffee makers and Molton Brown bath accessories.