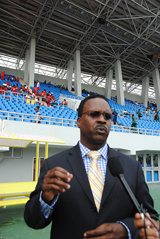 Nassau, Bahamas – The Bahamas is preparing itself to become the home of the CARIFTA Games on a permanent basis, providing the platform for the country to host a mini-Olympics each and every year leading up to the Olympic Games, according to Minister of Youth, Sports & Culture, Hon. Dr. Daniel Johnson.
Dr. Johnson is in talks with other Ministers of Sports from throughout the Caribbean to put forth an agenda for the next ten years, which will address and possibly re-define what the CARIFTA games means.
"I want the public to know that I am thinking about the CARIFTA games being a primer for the Olympic games," he said.  "Right now, these games are really track and field championships that we are hosting; Jamaica will host the swimming championships.  We in the Bahamas, after the build out of this multi-purpose center, are interested in hosting the CARIFTA games that would mimic the Olympic Games."
The Minister said the aim is to have 15 to 20 core sports going on all over the Bahamas, including gymnastics, canoeing and kayaking, rowing, racing and cycling.  He said this country would be prepared as early as next year to host this sort of games.  Even a beach volleyball and beach soccer pit are well on the way.
A major announcement is that the Minister says officials are also in talks with the PGA about creating the first PGA certified course outside of the United States right on Cat Island.  Meantime officials are also in talks with the Ladies professional Golf Association of the Americas.
The Minister made these announcements as officials begin their push in earnest for national support for the athletes as they participate in the CARIFTA games.  Leroy Archer, Chairman of the National Sports Authority, says the track will meet full certification, and an announcement in that regard will be made the first week of March.  Basil Christie, Chairman of the local organizing committee promises that the opening ceremonies will be a fabulous display of culture from the Bahamas and the Caribbean and will be the right start for a fantastic games planned.  Tickets for the CARIFTA games, to be held March 29, to April 1, 2013 at the National Stadium will go on sale today, Monday, March 4, 2013.  Check out www.carifta2013.com.