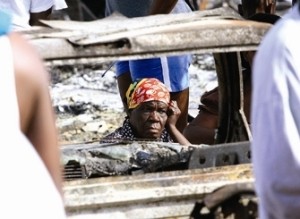 By Candia Dames
candia@nasguard.com
The Nassau Guardian
MARSH HARBOUR, Abaco — A Haitian man picked up a Bible out of the rubble yesterday, a day after fire raced through a portion of the shantytown known as The Mud, destroying an estimated 30 homes.
The man read scripture still visible on the charred pages, which he cupped in his hands.
Moments later, those pages disintegrated against the force of the wind and were blown away.
Other residents who said they lost everything in the fire milled about for much of the day, picking through the blackened remains, searching for anything that could be salvaged.
Amid the loss, there appeared to be nothing that would be of any use to anyone.
Officials on the ground at The Mud yesterday said it was still unclear exactly how many people were impacted by the fire, which started around 4 p.m. Wednesday.
But they said the number exceeds 100.
They said preliminary investigations suggest the fire was started by a child playing with matches.
Juliette Gedeus, 24, said she was just outside her family's home when the fire started.
Gedeus said her 4-year-old nephew came outside and said, "Auntie, Mommy's bed is on fire."
She said she ran in the house and tried dragging the mattress out since it was the only thing burning.
Gedeus sustained minor burns about her right arm and face, and failed in her attempts to save the home.
She said it did not take long for everything to be gone.
Gedeus also told The Nassau Guardian that the boy has denied that he was playing with matches.
"He doesn't know what's going on," she said, adding that there were other adults in the house.
"He went in the house for less than two minutes. That's why I don't understand this fire."
Gedeus said she lost all her possessions in the fire.
Yesterday, she was wearing clothes someone had given her.
Wednesday night she slept at a relative's house and had planned to do so again last night.
Scores of other fire victims also had to seek shelter elsewhere Wednesday night and last night.
Henry Ducamel, 19, said he slept in a car on the night of the fire and planned to seek shelter last night.
His brother, Arnal Ducamel, said they were all devastated.
"I just hope all these people can find some place to live," said Arnal Ducamel, who told The Guardian he had been renting from someone.
He said he had nothing left but the brothers said they were glad to be alive.
Techelet Casimir was also standing on the small portion of land where his home once stood.
Nearby, his wife and children sat under a tree.
He said they had no idea where they were going to go next, but they too were grateful that they were still alive.
"When you have life it is better for you," the Haitian man said.
He said he was at work in Treasure Cay when the fire started.
Casimir said he slept at a friend's house the night of the fire.
Yesterday, officials from the Department of Social Services were registering fire victims in a nearby church and offering assistance.
Officials from the National Emergency Management Agency (NEMA) and The Bahamas Red Cross were also at the site of the fire yesterday organizing relief efforts.
"One way or the other we will make it," noted South Abaco MP Edison Key, who pointed out that officials had set up a shelter, although on the first night only a few of the fire victims had made use of it.