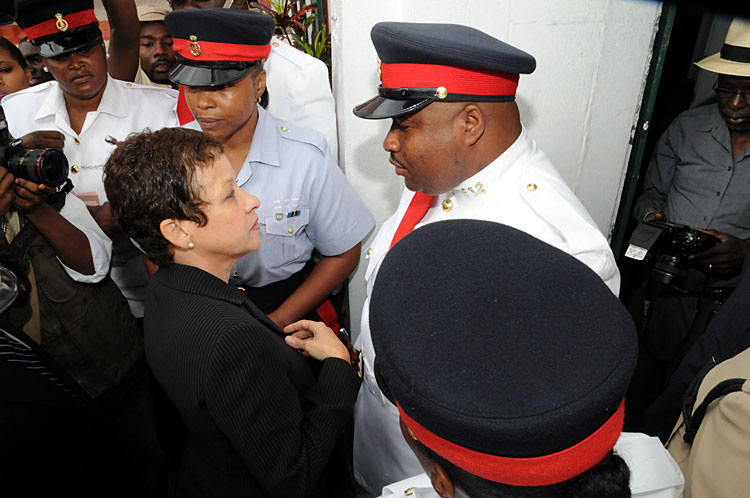 MICAL, Bahamas — Breaking News coming into Bahamas Press this afternoon comes from the most southern constituency in the country, where residents are crying foul following intimidation tactics by a police officer on that island.
Information on the ground tell us, a uniformed police officer has been given instructions randomly walk from door to door intimidating voters in those settlements for the Free National Movement Government.
We are told according to information supplied to us, the said officer who at times is clad in his uniform, continues to harass constituents to speak with him as he instructs them to register and support the FNM "or else".
A resident on the island told us, last week the officer approached an unemployed young man in the community telling him he is to wear a red shirt every day with its symbols supporting of the FNM or he would place that individual under arrest; without saying why.
We find this bullying tactic by the GESTAPO POLICE, who supports the FNM on the islands to be insane to say the least. This is 2011 isn't it?
Additional sources deep in the Apparatchik of the FNM tell us, while the PM has delayed calling the Boundaries Commission to begin its preliminary work for the General Elections; we are told plans are already underway to make MICAL a two seat constituency.
A source in the OPM say, "We do not know how the Papa in his "scatter-brain" like thinking could decide to do such, particularly when he was the one who said there was not enough students in Salina Point to build a needed new school in the area. The population has not increased but has declined since 2007. Now with his "twisted brain", he intends to create two seats in MICAL? The man's gone mad and desperate!"
Bahamas Press calls on the PM – all the way in London – to appoint The Boundaries Commission immediately, so all its intents can be made known to the public before the rushed November 2011 General Elections.
We also call on the Commissioner of Police to investigate that police officer in MICAL, who continues to harass and threaten voters daily in that constituency.