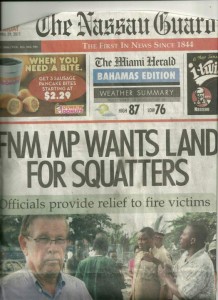 Abaco, Bahamas — The Foreign National Movement is one step closer to granting ILLEGAL SQUATTERS the Bahamian dream on Abaco as a senior member of the Party calls on the Government to grant Haitians in that community prime property.
We found the call by MP for South Abaco, Edison Key, to be astounding, and should be received with GREAT ALARM!!!
With thousands upon thousands of hardworking broke a** Bahamians crippled financially; unable to afford their rent, and many more unemployed; thousands we know cannot afford a piece of the rock! But here apologetically stands the FNM all set to grant illegals  LAND?
It was following the Mackey Yard fire incident back in December when Papa himself along with Cabinet Ministers announced his government intentions to move into the Yard, clean it up, send agencies in to assists the victims and grant legal status to the scores of illegals who resided there.
Bahamians must be enjoying the Backside RAPE this Foreign National Movement Government is putting on them!
Young Bahamians cannot find a decent job, much less buy land. They cannot keep food in the cupboard [AND WE MEAN NOODLES]! They cannot find tide to wash clothes or afford the tax-saddled gas prices at the pumps. But the FNM is ready, willing and able to support ILLEGALS?! WE CRY "DUTTY" SHAME ON 'DEM'!
If only the thousands of poor Bahamians could be afforded the same privileges, perhaps THE FNM could be considered by US. But to now give the illegals land, at a time when mama in South Beach cannot get a DAMN BUS STOP ON BLUE HILL ROAD?
Yinner mussy want make BP cuss in Rawson Square!?
WE NEED CHANGE!