FROM WUNDERKIND—TO TOP LAW ENFORCEMENT OFFICER!
ERIC HOLDER!!
CONFIRMED AS AMERICA'S
NEW ATTORNEY'S GENERAL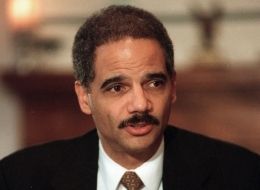 For those who would have been following the ascension to # 1 law officer in the United States, most would consider it an additional plus to the recent elections. First a black president and now another first, a black attorney's general. Eric Holder.
From what Bahamas Press' research has turned up about Mr. Holder, is that he is a regular fellow from the hood (personality-wise), who turned out to be pretty much what was expected of him. Having grown up in East Elmhurst, Queens, New York, Bahamas Press discovered that he was scholar from day one that he attended school. To his close friends, childhood and into these days, he's affectionately called, 'Ricky,' and to his real cradle-to-grave people, he is also known as "Lew"(meaning Lew Alcindor, aka Kareem Abdul Jabbar), because of his hook shot on the days at the park playing basketball. When he would shoot his hook shot, it is said that it was just like shooting an uncontested layout! Automatic deuce.
However, it seems that he saved his best 'shot' for this time and place. To those who speak of him from the cradle-to-the-gave, it is said that being the "first black" anything doesn't matter to his friends—because regardless of what color, Eric Holder was destined to be an historical person! And for that, his friends, everywhere are so glad that it turned out just how they saw it and just how his parents (father deceased), his sibling (Billy, another amazing person) and he planned it.
Bahamas Press congratulates Eric Holder, Wunderkind, Scholar, Attorney, Judge, Deputy Attorney's General, Attorney's General—and a good hearted human being.

Please accept BP's Keys to the Bahamas—it is the only one in my Bahamas, these days that has 'truth in reporting' engraved on it.