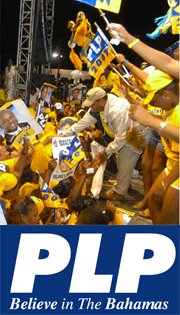 6 January 2012
FOR IMMEDIATE RELEASE
Today marks the thirty-seventh day that the leader of the opposition publicly requested the government to make public the details of the asset transfer agreement reached between Brookfield Asset Management and Kerzner International. To date, the government has failed to do so and must immediately come clean to the Bahamian people in the public interest.
The FNM government does not put Bahamians first.
With the jobs of more than 7,000 Bahamian employees at stake and with uncertainty among the affected workers, this government's insensitivity and lack of transparency are proof positive that it does not put the well being of Bahamians first – above their narrow political interests and above special interests.
We again call on the government to come clean and reveal the details of the deal to the Bahamian people. Bahamians want to know if there are any guarantees in the agreement to protect and preserve their jobs, wages and benefits and if so, what are the terms, conditions and duration.
The PLP reminds the FNM about its much-touted principles of public life where transparency and accountability were prominently featured.
Many Bahamian families are relying on these jobs so its incumbent upon the government to be seen to be fighting for the rights of and protecting the interests of Bahamians. Our people deserve no less.