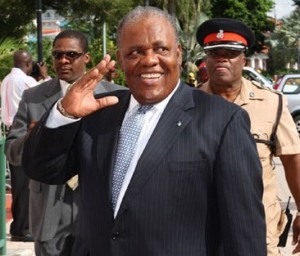 Nassau, Bahamas — Like a 'Jungaliss' with a STOLEN CREDIT CARD, Hubert Ingraham is now on the path to bankrupt the Bahamas!
In mid-December, Ingraham and the FNM borrowed 81 million dollars for Water and Sewerage before the Parliament closed.  Following that approval, that very same day, they borrowed – without going to Parliament – another 50 Million from the IDB.
But if that was not enough, just yesterday, while the flags stood at half mast for the burial of Sir Clifford Darling, the Ingraham administration, again without any approval of the Parliament, borrowed another 40 million from the Chinese government for bridges and a port in Abaco.
Therefore, in just the last 21 days, Hubert Ingraham and the FNM have borrowed over 171 million dollars on the backs of Bahamian unborn. His government continues to tighten the noose around the necks of the poor. The country will now experience higher taxes, larger energy and electricity costs. We will spend more for food and services while the FNM contractors go laughing to the bank. We cry DUTTY SHAME ON DEM!
In five years the FNM has borrowed more than 2 Billion Dollars, They have created the highest crime rate ever, delivered massive unemployment, overseen a poorly managed road project that is not on time, over budget and substandard in quality. They have increased taxes on every item including on the holy bible!
CLEARLY, The Bahamas is headed in the WRONG DIRECTION!
We report Yinner Decide!