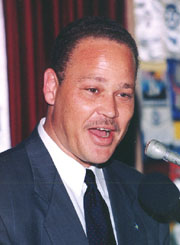 <<< Carl Bethel, Ministry of Education.
Carl 'Undernourished' Bethel was shaking like a reed in the House of Assembly yesterday, as he made his contribution on the appointment of a select committee to investigate Sexual Slaughter by teachers on students at the Eight Mile Rock High School in Grand Bahama.
Trying to save himself, Bethel argued that his Nassau office in the Ministry of Education [MOE] was unaware of matters developing at Eight Mile Rock School. Now this is disturbing because readers of this website would remember Carl Bethel sending out his acting director Lionel Sands who suggested that there was NO CASE of pedophilia happening at the school. But parents had refuted that claim, and argued for months, but the minister at the time, NEVER HELD A SINGLE MEETING WITH THE PTA!
Here is another thing Bethel knew. He knew rape incidents do occur on school campuses here in the country. In spring of last year an incident of rape happened on the once prestigious Queen's College campus. Bethel then 17 year-old son had raped a 13 year old female on that campus, and just like EMRH, the minister, the principal, and the police all covered up the situation. Prime Minister Ingraham said it best when he said yesterday, persons who knew of such crimes against young people, has also committed a crime!
Bahamas Press then called for Bethel to resign because it was obvious, he could not police the system anymore. We knew after the Queen's College scandal, if a case of sex involving students or teachers with students had arisen again, Bethel would do his utmost to suppress it, and he did so in this EMRH case.
We can only hope that when historians judges the words of the Prime Minister, they would also find his words on yesterday as a turning point on the whole episode of SEXUAL SLAUGHTER committed against children in this country.
Yes, we can only hope Ingraham will indeed fire those officials who turned their eyes and allowed that NASTY ANDRE BIRBAL and his clandestine pack of pedophile lovers, raped innocent children. And we hope Carl Bethel will be removed also in that exercise. Bahamas Press will be watching to see what happens.