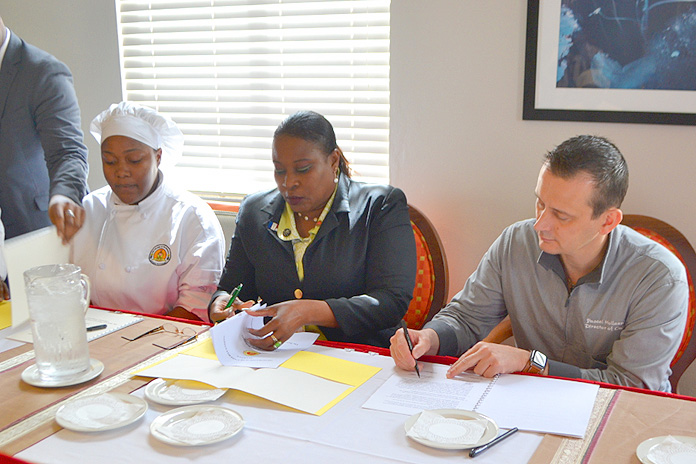 NASSAU, Bahamas – Students from The College of The Bahamas Culinary and Hospitality Management Institute (CHMI) will not only be taught the ins and outs of the food and beverage industry at The College, but will also receive on-the-job training through the Apprenticeship Programme. First year students enrolled in the Associate of Applied Arts Degree Programme in Culinary Arts at CHMI participated in an Apprenticeship Contract Signing Ceremony held last week at Choices Restaurant on the Oakes Field campus.
"What is so significant about this signing," emphasized Dr. Sophia Rolle, Executive Director for the Institute, "is that we have not had such a signing ceremony in over fifteen years."
Historically, students entering the Culinary Arts Degree Programme must compete in various areas for one year after entering the programme before they are invited to participate in the interview process with potential hotel placement. A well-organized and technically crafted interview process is held and executive chefs from the leading hotels are invited to interview the students. These freshman students are generally very well prepared by Chef Instructors at The College.
Apprenticeship Coordinator and Fellow of the American Culinary Chef Addiemae Farrington mentors the students along with other certified and credentialed instructors including Chef Mario Adderley, Davian Maycock, Sterling Thompson, Christina Moseley Rolle and the famous pastry chef, Eldred Saunders of Chef Ellie's Duff.
This year, a number of our students have successfully signed up with hotel/club properties that have longstanding relationships with The College.
Four students were invited to join the team at the Lyford Cay Club. These students – Katiusia Johnson, Westesha Neely, Shakera Sands and Charles Lubens – are thrilled at the opportunity and are set to embrace this challenge. Signing up with the RIU property on Paradise Island were Avery Kemp, Daria Stubbs and Donovan Price.
"I an very pleased with the selection of students this year," noted Executive Head Chef at the RIU, Chef Don Ingraham. He also cited the challenge many hotel properties face bringing on persons with little to no experience in the field. Having gone through the Apprenticeship Program himself many years ago, Chef Don noted his delight to be mentoring another group of students through this same program.
Other properties not on hand for the ceremony but who are also hosting CHMI's students this year were the Sandals Resorts, Albany Resort Bahamas and Atlantis Resort on Paradise Island. The expectation is that these resorts will seek to sign their students up at a later date.
Students participating in the Apprenticeship Programme out of CHMI are expected to rotate through the various stations in the kitchens on property as they log 6,000 hours of skill-based training. While working in the industry, student candidates must successfully complete their degree programme before they are qualified to sit for international certification offered through the American Culinary Federation. Providing the student is successful, they will graduate with the distinction of Certified Culinarian, Certified Cook or Certified Pastry Cook depending on their area of specialty.
Dr. Pandora Johnson, Interim Vice President for Academic Affairs said, "The Apprenticeship Contract Signing Ceremony is a red letter day for The College. It is our expectation that these budding professionals will conduct themselves in a manner that is befitting their craft and their institution. We expect that they would seize this opportunity so generously provided to make not only CHMI and their families proud, but to make this country proud."
Avery Kemp, a culinary student who will be posted at the RIU property, expresses his gratitude for the opportunity.
"Firstly, I am looking forward to the experience. Given my background of coming from the island, this is something I have never done before and this is a big step in my life. I am looking forward to learning based on a saying from my father that 'there is something that people can never take from you – that is knowledge.' "
Clarence Albury, Director of Training and Development at The Lyford Cay Club, said they are partnering with CHMI in this venture because they want to help grow talent in The Bahamas.
"Being sensitive to the brain drain in the country, Lyford Cay Club is trying to do its part to ensure that we retain the bulk of our talent, because it is here. This country is blooming with talent. It is our responsibility, as a partner, as an employer, and as a member of the tourism body to retain as much of that talent and to hire as many Bahamians as possible and that's really what we have been doing over the years."
The Apprenticeship Programme is fully recognized by The National Apprenticeship Committee of The American Culinary Federation Education Foundation.
On Wednesday, March 16th at 6:30 p.m. The College of The Bahamas' Culinary and Hospitality Management Institute and Kendall College from Chicago, Illinois will host a town hall meeting to share information about the new 14 week Culinary and Hospitality Management Skills Bridge Programme.