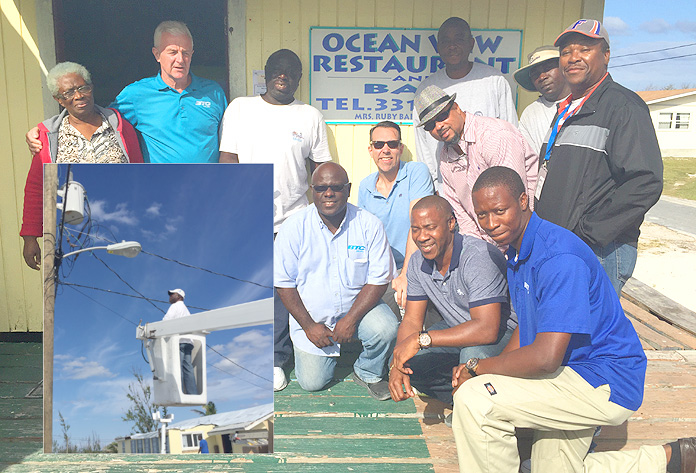 Rum Cay, Bahamas – After the devastation of Hurricane Joaquin late last year, BTC continues to work tirelessly to fully restore services throughout the affected Southeastern Bahamas.
Following the damage, the company decided that instead of repairing the existing infrastructure, it would completely upgrade the devastated islands. As a result, residents of Rum Cay, have been upgraded to Fiber-to-the-Home (FTTH), which allows BTC to provide its FLOW TV services to the residents.
CEO Leon Williams said, "BTC has not and will not turn its back on the southeast islands. Our people deserve to have the same access to modern communications solutions, regardless of their location. These residents are experiencing speeds that are 100% faster and the introduction of FTTH for Rum Cay allows us to provide our FLOW TV product. We are continuing to do our part not just repairing service, but impacting lives along the way. We continue to house the children of Rum Cay at our BTC office as their school undergoes renovations. We have also made our office a 'hotspot' in the aftermath of Joaquin, allowing the residents an opportunity to get away from it all."
Trevellyn Bain, second-generation owner of the Ocean View Restaurant and Bar on Rum Cay was connected via fiber-to-the-home becoming the island's first FLOW TV tester. After almost two weeks of testing, Mr. Bain says "so far so good."
"They came in that morning and I was up and running by afternoon," said the restaurateur, praising the efficiency of the installation team. "The product to me is excellent. The picture is perfect, the clarity is wonderful, and I am loving it. I haven't gotten to check the cloud recording yet – one step at a time – but I am looking forward to it."
He added that the product has boosted his business. "This is something new to the island. I have it installed in the bar, and a lot of customers stop by every day and every night to check it out and they love it. The customers are responding well to the fast Wi-Fi internet thanks to FTTH's super-fast broadband; and they are watching their favorite channels like A&E, TBS, TNT, movies, and of course the Miami Heat games. This will be a good thing for Rum Cay when it comes."
BTC has officially introduced over 100 television channels to the residents of Bimini, the first Island to have FLOW TV. Since December 2015 customers have been experiencing the fully optimized television service with progressive features including pause, rewind and fast forward.
According to Bain, residents want more selection and are looking forward to the choices that FLOW TV provides. "We only had the six channels on wireless cable and there is no comparison. This is awesome, there are so many channels you just can't compare," he said.
This sentiment is echoed by Chief Councillor in the Rum Cay Island Administrator's Office, Francis Bain-Missick, who said, "everyone is excited to get their home hooked up to FTTH and FLOW TV. We are anticipating the wide selection of channels."
Mrs. Bain-Missick stated that this is not Rum Cay residents' first encounter with the BTC's FLOW television. Since Hurricane Joaquin, BTC has made its office a community hub, making their services available free of charge for locals to connect with relatives by internet or phone, stay on top of the news or recharge with a movie.
"After the hurricane BTC was there as soon as they were able, to assess damage and make repairs," she said. "While they deal with repairs, they have opened up the BTC office so that residents can use the phone and internet for free to make contact with loved ones in other islands. They even set up the high-definition FLOW TV in the office, which was nice because in the evenings persons could get together and have the small comfort of watching television."
Ultimately, Mrs. Bain-Missick said that BTC's recovery efforts in Rum Cay have come a long way and she hopes the improvements, including FTTH and FLOW TV, signify better times to come.
"Most of the house phones are back up in service now. Internet is up in offices and in some homes. We are looking forward to the rest of the homes to be sorted out shortly and things returning to normal. Though it's not all competed yet, BTC has been continuously working to get us back on track."
BTC is currently testing television services in Cat Island, Exuma, Andros, Long Island and New Providence. BTC has indicated that it will deliver services to the Family Islands first before extending its television services to New Providence. FLOW TV is now commercially available in Bimini and Inagua.