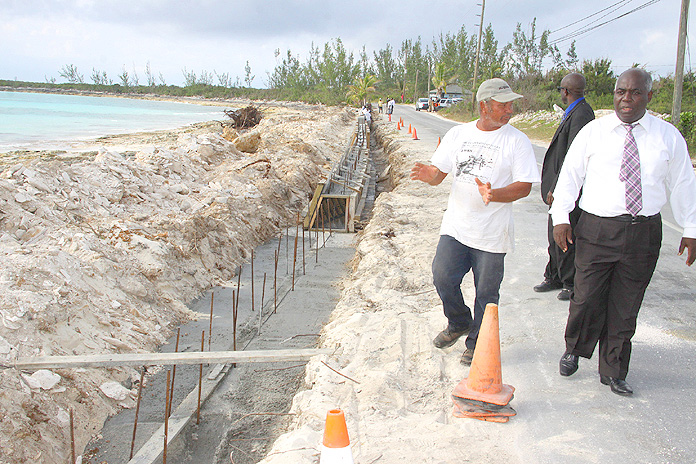 SAN SALVADOR, Bahamas – Residents in settlements impacted by erosion and sea surges will benefit from seawalls presently being constructed in San Salvador.
During a recent visit to the island, the Hon. Philip Davis Deputy Prime Minister and Minister of Works and Urban Development inspected a seawall that was under construction in Halls Landing.
In addition to this seawall, one has been constructed in Bonefish Bay and another is expected to be built in Pigeon Creek.
"This area was prone to sand and deep erosion into the road which was severely damaged and compromised by Hurricane Joaquin. So we decided to build a sturdy seawall to protect the road and to preserve this area from further deterioration. This area has been a challenge but it became more pronounced over the last several years.
"There was much more land there but it is now gone away. This is all evidence that the world has become sensitive to climate change that is causing the high sea level rises and of course with that comes the surges that impact and erode the seashore lines," he said.
The Government is presently conducting studies in the Family Islands to determine how to connect communities by way of roads along seashores.
"With the rising sea levels most of these roads would be eroded. It would be a very expensive exercise to repeat what you see here along the coast of all the islands of The Bahamas that would require protection from sea levels and surges."
Minister Davis is pleased with the quality of work being carried out on the seawall in Halls Landing at a cost of approximately $300,000.
Twelve residents of San Salvador and Cat Island have been employed by Ezra Russell, owner of Marlin Enterprises and contractor for the project to build the seawalls.
"In two months we have completed some 1,300 feet of seawall. The seawalls are very important to protect the roads and the community. Most of the areas that have been eroded are in communities. It's a hazard when with the southwest wind come sand and water that fill the road and make it unbearable for passing," Mr. Russell said.