Officers turning red on new GOLD RUSH Government!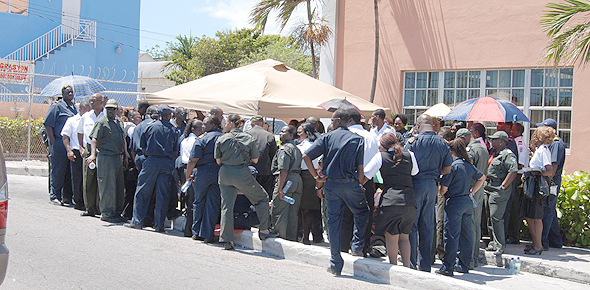 London Bridge could come down in the Bahamas if Immigration Officers don't get what was promised! – Boarders could go unprotected!
Nassau, Bahamas — Immigration and Customs officers are now set to take the Government to court and on a roller-coaster protest following a breakdown in negotiations between the two parties Bahamas Press has learned.
We can tell you irate officers are set to throw the government in court after meetings with representatives of the Government and the uniform branches broke down.
"We feel betrayed! We have been fighting our cause to deliver justice to our department from 2011. Just before the elections we were told that we would have a government that will listen to us and indeed fight for us! A government that will believe in us!  What we are now getting today is a group who refuses to listen to us and is now fighting against us," one immigration officer said.
Bahamas Press has learnt officers in the Immigration Department in particular have yet to get a single promotion in four years. In fact, we can confirm only the Acting Director and a new Deputy Director of Immigration have received their promotions in the service.
"How could the government do this to us after knowing our plight prior to the elections. They promised to come to our rescue and now look what has happened to our departments! The police got their promotions – in fact there have been two promotions in the Royal Bahamas Police Force since the new government came to power. The Defense Force got their promotions underway and so has the Prison Service. But we in Immigration have been left like an abandoned child. Our overtime pay has been cut and no one has been elevated – this is wrong." the officer said.
In April 2012, just before the general elections, the embattled Ingraham Regime assigned Defence Force Officers to the stations at LPIA immigration desks after officers walked off the job with some suggesting, "London Bridge is falling down!" in the Bahamas.
Following those incidents of protests by Immigration, the then-Prime Minister warned officers that he was ready to fire them if they refused to return to work, adding, "I will remember you," as he threatened workers.
Now that issues in Immigration remain unaddressed by the new administration and officers are headed to court – just maybe workers will soon leave vacant the welcome terminals around the country. We shall wait and see.
All we know is this however, if the officers don't get their promotions as promised by the New Government – Dog Ga Eat YALL LUNCH!

We report yinner decide!