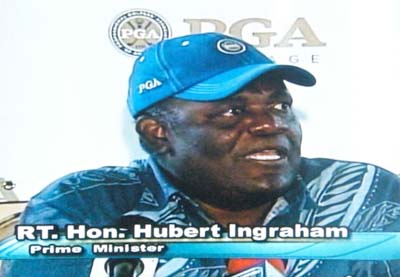 Cat Island, Bahamas: For those of you who find the words of Hubert Ingraham sobering, then continue to pay your CLICO premiums. But here is a scene we thought no one would see anytime soon. Here once again Ingraham, Prime Minister of the Bahamas, is eating his own words, again!
Just last year during the budget debate in the Parliament, he told members, "I don't do groundbreaking!" As he scoffed at his colleagues breaking ground for a complex now being constructed near the caves out west. But somehow he has again forgotten his own words.
With construction of PGA Village on the island of Cat Island now being envisioned, Ingraham was seen digging a shovel into the ground (BELOW) along with developer David Southworth. Almost half of the Cabinet was traveled with the PM to Cat Island on Friday. Hmmmmmm!
So much for the Bald Head Monk, he was chewing and backpedaling his own words AGAIN!