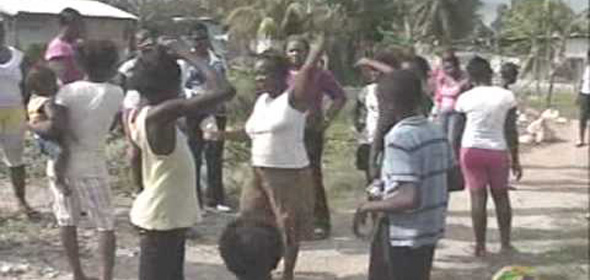 Jamaica — Police Commissioner Owen Ellington has ordered the immediate arrest of the policemen involved in yesterday's killing of a man from Pineapple in Ocho Rios St Ann.
The Constabulary Communication Network (CCN) had earlier reported that the man, Ian Lloyd, was shot dead after he attacked members of a police party.
According to the CCN, Lloyd, also known as 'Ching Sing', had earlier stabbed and killed Loveta Wilson, otherwise called 'Cherry' at her home in Old Bucksfield , Ocho Rios, St. Ann.
The CCN says the police were accosting Lloyd at the woman's home when he hurled stones injuring four cops.
"Continuing to unleash his fury, Lloyd stabbed at one of the lawmen and was shot. Both Lloyd and Wilson were taken to the St. Ann's Bay Hospital where they died," the CCN reported this morning.
But the Commissioner says after examining a citizen's video of the incident he has instructed that the policemen be immediately arrested.
The Commissioner says the video shows the policemen beating and shooting to death the man lying on the ground appearing to be unarmed and subdued.
Commissioner Ellington has also instructed that stop orders be placed on the policemen involved at all ports of entry.
He has applauded the bravery of the citizen who brought the incident to notice and is encouraging others who witness any act of police misconduct to do the same.
"This provides the best opportunity for the police to rid the force of those members who would want to act outside of the law," Ellington said.
"The entire JCF family deeply regrets this incident and we want to apologize to the family of the person involved and all decent citizens of Jamaica. I will take every action necessary to prevent any future occurrence and I am asking citizens to be courageous, strong, and alert," he continued.