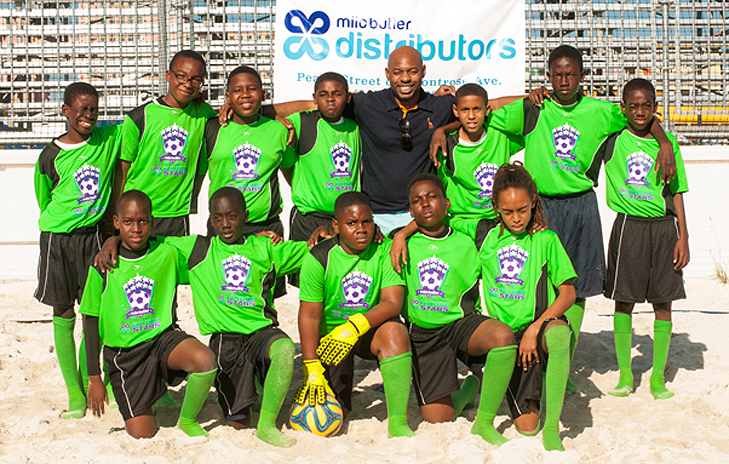 Nassau, Bahamas — The future looks bright for a group of junior soccer players thanks to a new partnership with local wholesaler Milo Butler. Decked in neon green shirts, the newly dubbed Milo Butler Future All-Stars donned their uniforms at a thank you event hosted by their sponsors.
Team President Carlton Adderley said the program began four years ago as a way to reach inner city kids through soccer education.
"Our club has reached out to mostly under privilege children to impart soccer education to the children who reside mostly in the inner part of the city and have no access to finances to pay league registration fees or purchase training equipment," Adderley explained. "Our major thrust has been to give these kids something positive to do, rather than sitting on the blocks and getting in trouble. We are thankful to the team at Milo Butler for stepping up, committing funds and showing an interest in these disadvantaged children."
As the title sponsor, Milo Butler has committed to providing uniforms, soccer gear, league fees, gas and refreshments stipend for the team. To date, the Future All-Star program has moved up in the league rankings and have trained nearly 100 children under age 17 and some 35 kids in the over 17 category.
Fabian Fernander, Marketing Manager for Milo Butler, was on hand at the event unveiling the new uniforms to wish the team well in the upcoming season. "It's important for us to give to organizations who are having a direct impact in the community. This group is using a vehicle like sports to attract kids who might be at risk for getting involved in negative activity and engaging them in something that is safe, education and enjoyable. This is a positive program and we look forward to great things from the Milo Butler Future All Stars!"
For more information on the team or to learn how you can provide additional support, email team President Carlton Adderley at CA72247@gmail.com.