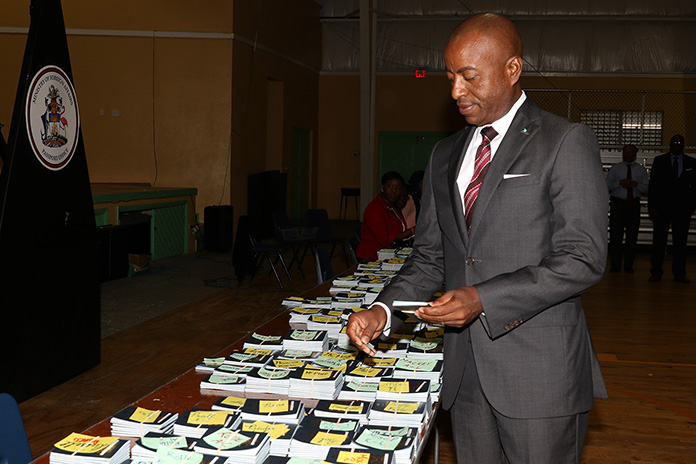 NASSAU, The Bahamas – A Passport Issuance Centre has been instituted on the campus of the Anatol Rodgers Junior High School on Faith Avenue off Carmichael Road. During a tour of the facilities on Thursday, July 20, Minister of Foreign Affairs, the Hon. Darren Henfield urged Bahamians to make use of the service.
"You might be aware that February 2016 was the International Deadline for all Hand-Written Passports," said Minister Henfield: "This created a rush at Passport Offices throughout the Commonwealth for all persons still not in possession of the Electronic Passports, since inception of the Government's e-passport system December 2007."
He said that this 'urgency' coupled with the normal last minute summer rush, prompted the birth of the Anatol Rodgers Passport Issuance Project.
He said that during the months of July and August 2016, three thousand six hundred and sixty-four e-passports were successfully issued to the Bahamian Populace. He said that this year, a decision was made to provide an alternative site for the collection of passports.
"Similarly, during the year 2017 it was discovered that in spite of every effort by Passport Staff to prompt recent e-passport applicants to retrieve their documents from our Thompson Boulevard/University Boulevard Location, over 3,269 e-passports remained at Passport Office awaiting collection by members of the Public," said the Minister. He said bearing that in mind, the Government decided to once again initiate the Anatol Rodger's Gymnasium Issuance Centre on 3rd July, 2017 for the sole purpose of issuing New E-Passports.
"To date, we have successfully issued 1,516 e-passports since opening our doors over the past two weeks," said Minister Henfield. We anticipate operating at this location, throughout the month of July and quite possibly into August 2017. This decision will be based on customer/citizen response. The public will be informed accordingly."
Minister Henfield also thanked the Minister of Education for the use of the gymnasium, the Minister of National Security for providing security personnel, and Chief Passport Officer Clarence Russell and his staff at the Passport Office for their outstanding work in providing the service to the public.