Haitian Migrants apprehended in Long Island – NO DEPORTATIONS ANNOUNCED SINCE ELECTION!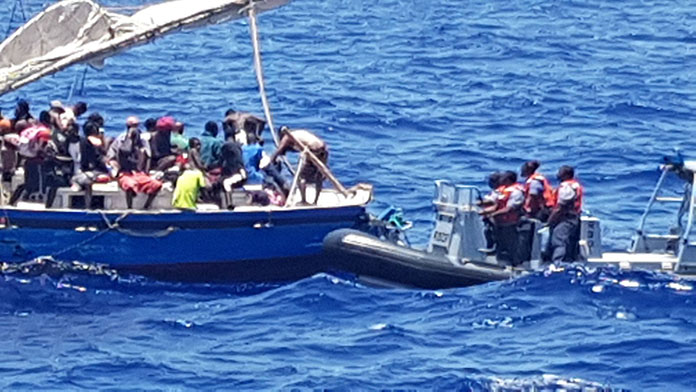 Coral Harbour Base, 25 JUL. '17 (RBDF): Less than 2 days after the Royal Bahamas Defence Force patrol craft HMBS Arthur D. HANNA and OPBAT officials apprehended some 86 Haitian migrants on the remote island of Little Inagua, another large group was apprehended, this time near Long Island.
Around noon today, a boarding team from HMBS Cascarilla, commanded by Lieutenant Commander Clinton Johnson, boarded and searched a Haitian sailing sloop, discovering over 120 migrants all believed to be Haitian nationals off Galloway Cay, Long Island.
The migrants will be transported to the Capital where they will be turned over to Immigration officials for further processing.
This is the fourth migrant vessel that has been apprehended in Bahamian waters for the month of July. On 15 of this month, a joint operation by the Royal Bahamas Defence Force and Bahamas Immigration officials resulted in the apprehension of 64 migrants on Ragged Island and on July 3rd, a total of 69 Haitian migrants were apprehended on the Great Bahama Bank by Her Majesty Bahamian Ship Lignum Vitae.
The Royal Bahamas Defence Force remains committed to protecting the territorial integrity of The Bahamas and keeping our borders secured.