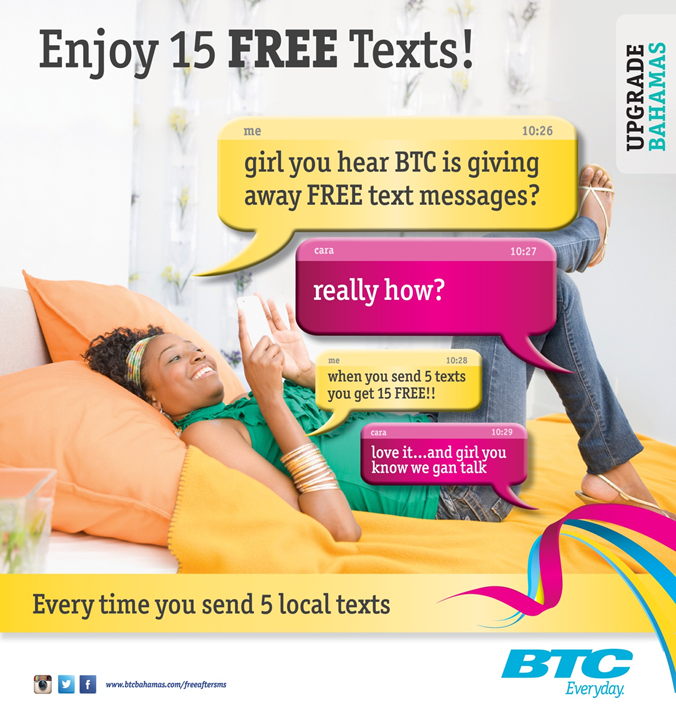 Nassau, Bahamas – Residents in the Northern Bahamas are enjoying their share of the recent $65M Bahamas Telecommunications Company (BTC) capital investment earmarked for improvements to its landline, broadband and mobile network. Several new mobile phone towers have been added to the Northern network, the LTE coverage expanded and a new mobile switching center (MSC) for improved service and efficiencies, activated. BTC is fast closing in on 100% LTE coverage nationwide with one hundred and seven (107) LTE sites across the country. LTE is an upgrade of the 4G network, and provides speeds that are five times, faster and smoother.
In December, Bimini became the first island to have BTC TV. Long Island is next to be followed by Inagua and Cat Island; New Providence will close out the list after completion of the Family Islands.
Talbot Collie, Vice President for the Northern Bahamas said the recent developments bring improvements to several of the BTC telecommunications channels.
"Over the last three months we have delivered major customer service improvements in Grand Bahama, Abaco and Bimini. The installation of a mobile switching center in Grand Bahama is improving processing speeds and efficiency of all mobile traffic including phone calls, text messages and data transmissions; it also gives an additional layer of redundancy, (a network, 'Plan B' safety-net,) ensuring service continuity in the event that there is a network failure at our New Providence location."
Mr. Collie said that the addition of the new mobile towers ups the number in the Northern Bahamas to seventy-five.
"In addition to adding a new MSC in Grand Bahama, several new mobile towers have been added to the network. There are now more than seventy-five (75) mobile towers in the Northern Bahamas. To date there are thirty one (31) in Grand Bahama, forty three (43) in Abaco and (5) in Bimini."
In Grand Bahama LTE coverage now extends to Grand Bahama Highway, Royal Bahamia, Grand Lucayan, McClean's Town, Maurice Moore Primary, Bootle Bay, Grand Cay, Basset Cove and Lucaya Estates.
Ian Rolle, president of the Grand Bahama Port Authority said Grand Bahama residents and businesses were noticing the improved BTC performance.
"It would appear that BTC is staying true to their motto: 'Listening, improving, delivering, committed. We see the strides that BTC is making with the guidance of Cable and Wireless to ensure that the company remains competitive locally, nationally and internationally, as customer's priorities remain number one."
Sebastian Carey, Information Technology Director of The Grand Bahama Power Company noted that the country needs efficient telecommunications to stay competitive.
"Our country's future growth relies on competitiveness and innovation, skills and productivity. BTC is just in the beginning stages of what will be a truly remarkable breakthrough for most people. The company has a big vision and it takes very small steps to get there. In the telephony industry, it's not about grand innovation, it's about a lot of little innovations: every day, every week, every month, making something a little bit better. The major advances in speed of communication and ability to interact provided by the LTE network has definitely made communication better."
Twelve (12) mobile sites in Abaco now provide LTE coverage. These sites include the Government Complex, Man-O-War Cay, Cedar Harbour, Green Turtle Cay, Guana Cay, Leisure Lee, Spring City, Cherokee Sound, Crossing Rocks, Sandy Point, Marsh Harbour Airport and Dundas Town.
BTC is the national leader in communications services. The Company offers a full suite of landline, broadband and mobile solutions for residential and enterprise customers. The Company launched the 'Upgrade Bahamas' initiative in November 2014, where $65M in capital expenditure is being deployed in the Company's networks.