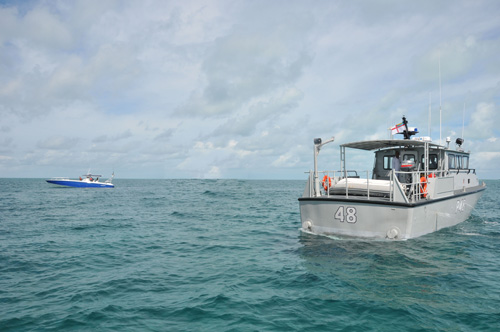 MICAL – Another group of illegal migrants have been captured at sea this morning as hundreds are set to be returned .
Royal Bahamas Defence Force Operations at Coral Harbour base received a call with regard to a Haitian vessel landing in the area of Stoke's Cabana in southern New Providence.
RBDF personnel stationed in southern New Providence as well as Coral Harbour base, who after conducting a vigorous search, were successful in apprehending 78 of these illegal migrants.
RBDF patrol craft P126 left Coral Harbour at 0235, and conducted an extensive patrol of the immediate area of the landing and additional surveillance of the southern shoreline.
The 78 migrants consisting of 67 males, 10 females and 1 child were turned over to a team from the Department of Immigration who later joined the operation.
RBDF personnel are still conducting searches at this time. The Royal Bahamas Defence Force remains committed to guarding our heritage.