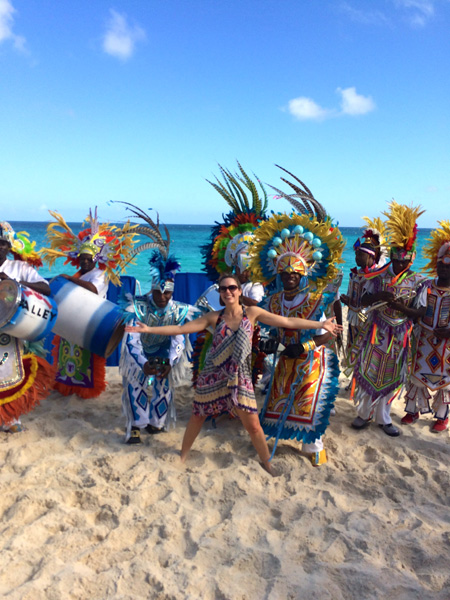 NASSAU, BAHAMAS – Over 3 million viewers around the world got a glimpse of The Bahamas for a week as lucky winners of NBC's Today Show 's 'Hot Ticket' got a special visit from one of the show's hosts Dylan Dreyer.
The group of winners, which was made up of three families, scored a three-night stay at the One and Only on Paradise Island and got to enjoy the sites, taste and sounds of The Bahamas.
That came complete with a Junkanoo rush out on the beach, down home cooking at the 'Da Fish Fry' at Arawak Cay, swimming with the dolphins and even a boat ride.
Dreyer, who is the meteorologist of the show, came down with her husband to accompany the winners.
"This is the trip of a lifetime to bring all these wonderful families, who have been dealing with such a cold winter back home myself included… to get this wonderful opportunity to come to the most beautiful place on earth. This is unbelievable," she said.
"I think when you come down to a 'work-cation' like this, people can get jealous and be like 'Why are you there?' But that's why it is so important to explain why we are and why we chose The Bahamas. We want to show how amazing the people are down here, the local music, sampling the local food and just to showcase to people who have never been here before what they are missing."
It is the first time Dreyer has been to The Bahamas, but she promises it won't be her last.
"I am taking everything in. The warmth, the beaches…it's so wonderful here and I am just happy to show that off to everyone back home. It is better in The Bahamas and from start to finish this has been an amazing trip and I don't want it to end," she said.
Judges from the Today's Show handpicked the group chosen from over 10,000 entries.
Valarie Williams, Deidra Gibbins, Kim Buckovich and Deborah Roberts, sisters from Boston, Massachusetts, said they were so excited to get away from the cold.
"It's been wonderful. We are loving the beach, being together and we love our family. Even though it's only a short time it has been perfect," Roberts said.
"The Junkanoo was the best experience. I would do that over and over all day long."
Rachel Albes De Lima, a Bahamian native and producer of The Today Show, said the experience was a special one for her because she got to show off her home.
"A lot of producers in New York were absolutely jealous that I got to come but since I grew up here I am very familiar with it. I thought about a lot of things that are really Bahamian that they could do here. I got to show them Junkanoo and let them taste conch salad, which is something I absolutely have to have whenever I am home. So I wanted to make sure that they experienced every part of The Bahamas," she said.
"The Bahamas needs no advertising. It's a beautiful country. Everyone always says it's better in The Bahamas. So for the Today's Show, it's great for us and for The Bahamas it is great to have us here. Everyone loves The Bahamas and there was not much that we needed to do to promote it. It's a country that people look at and say, 'I want to be on vacation there."