PSA 20 from King Of Hearts Media on Vimeo.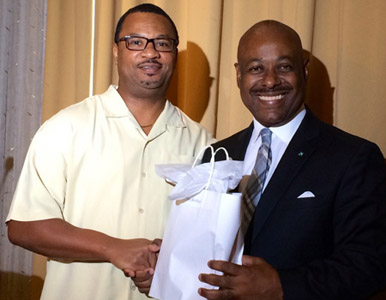 BAHAMAS – Minister of Tourism Obie Wilchcombe recently encouraged members of the Out Island Promotion Board to be a part of developing a "master plan" to promote each island of The Bahamas.
The minister was speaking at the Out Island Promotion Board's annual general meeting at the British Colonial Hilton.
"Each island will decide where it goes because…what are we going to do next for Exuma? Is it predicated upon Sandals or the Grand Isle? Are we going to build a new clinic? What are we going to do? How are we going to develop this master plan and are you involved in this master plan," Minister Wilchcombe said.
"The Ministry of Tourism is going to ask each of you in the respective islands and through the board to prepare our submission to the master plan because we have to know what tourism's plan in this is. How does this fit in the overall economic plan of The Bahamas and how do we consider legislation? What type of legislation?"
He mentioned that in the next several weeks the government will hold a product conference to get a jump start on the master plan.
"I believe that this industry requires all of us to work together and to ensure that at all times we are working assiduously for the good of our country," Minister Wilchcombe said.
"That master plan will take into account the needs of aviation. Exuma will get a new airport, San Salvador is going to have an FPO very soon. North Eleuthera's airport is well-gone, it is needs a brand new airport and that will happen soon."
The minister said Bahamasair needs to play a greater role in tourism. However he also encouraged the smaller airlines that are Bahamian-owned to create more opportunities.
"I want the Ministry of Tourism through our Domestic Tourism programme to cause a better relationship with the product. I want to make sure that we are able to discuss better airlift costs and accommodation costs," he said.
"Here in the capital what I find so incredibly amazing is that a lot of benefits go to the private sector because there is opportunity in the islands. They come and bring plans to the table and they seek concessions and more often than not they receive the concessions and it is predicated upon opportunity. They are asking for these concessions because these islands can grow and the result will be tremendous. The product that we have in the capital is because of the concessions to the developers. We can do more but we need to know what we are going to do."
The minister said the opportunities available must be collective.
"We are an agent. We are the advocates and we have to work with you to cause the growth and development that is required. We have to work together for that to happen. You have to help us and we have to help you. The government has the wherewithal to cause great growth in the islands but there must be a plan," he said.