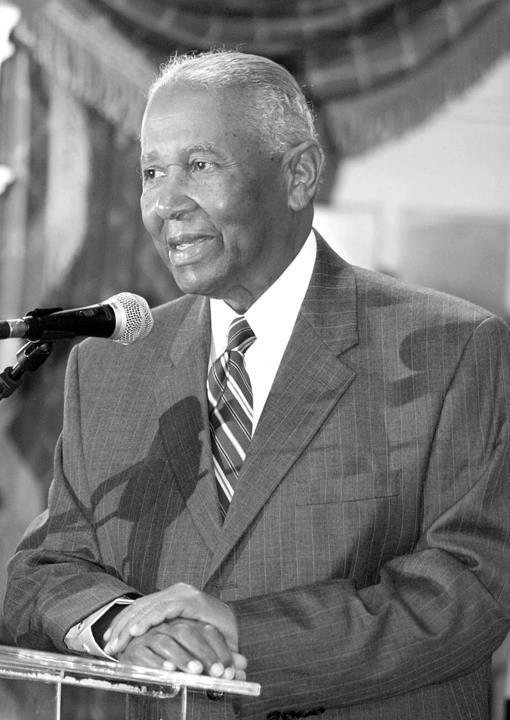 Tribute To The Late Paul Lawrence Adderley
By Bradley B Roberts Nat Chair PLP
Lynden Pindling Center
Nassau Bahamas
September 25th 2012
We are gathered this evening to pay tribute to one of our finest and noblest sons, Paul Lawrence Adderley who was loan to his family and mankind for 84 wonderful years. We shall all sadly miss him and pray that he is enjoying the just rewards of the saints.
I join our Progressive Liberal Party family and the nation at large in mourning the passing of our dear friend and colleague the Hon. Paul L. Adderley who was the longest serving Attorney General in an independent Bahamas; he served with distinction in that office for seventeen years; this record is unlikely to be surpassed.
Mr. Adderley was a legal scholar, having served as a member of the Bahamas Bar for almost 60 years and was widely admired for his intellectual prowess and uncanny ability to interpret the law. Paul was a formidable debater in the halls of Parliament and his character and reputation as a public servant were above reproach. Noted Attorneys would come to Parliament to listen to Paul debate. Yes, the passing of this Stalwart Councilor and iconic figure in the political development of The Bahamas saddens us all but Paul surely left an indelible legacy of excellence on this country and for that I am sure we are all happy and thankful to Almighty God.
Having been born on Augusta Street North, just below Poinciana Hill on Delancey Street in the City of Nassau where Paul and his sibling Francis grew up, it was my fortune to have known members of the Adderley family growing up as a boy. The Adderley Family was always held in high esteem and respect from my boyhood days and that grew even stronger over these many years. My Dad, his Mother and Great Grandparents Mr. & Mrs. Ernest Lenkard Bowen MHA and the Adderley Family worshiped for many years at St. Mary the Virgin Church. The knowledge and respect that I have of the outstanding legacy of the Adderley Family are shared by my family.
I remember as a teenager attending street rallies for Sir Milo Butler Sr. and Paul Adderley which were organized and moderated by Teddy Richardson who was a staunch Adderley supporter. In those days a rally only required a mike, speakers and a few chairs. This was relatively cheap compared with today's cost.
I wish to speak for a moment or two on Mr. Adderley's strong and passionate defense of the PLP government against the bogus charge made by Brian Ross and NBC in 1983 that senior government officials accepted bribes from Colombian drug smugglers.
I was sworn in as the Member of Parliament for Grants Town but a few months when the correspondent for NBC News made the bogus allegations. History has recorded that Paul L. Adderley, with great energy, enthusiasm, conviction and justification, stood strong and courageous in defense of Sir Lynden. His detractors were forced to acknowledge Paul Adderley's absolute brilliance.
I recall the declaration by Mr. Adderley that the grimy hands of the imperialist were at work in the bogus claims leveled by NBC. Many stood like Paul in defense of the Bahamas' Black Moses, Father of the modern Bahamas and the Nation's Banyan Tree, but none was as passionate and consistent as Paul Adderley.
For the benefit of the younger generation of Bahamians, a view of Calvin Harris' documentary "On The Wings of Men" reflects and affirms Paul Adderley's charge that the grimy hands of the imperialist were at work in the bogus NBC claim.
Paul Lawrence's loyalty and commitment to his Family and the people of the Bahamas is beyond question. He could have easily chosen the more lucrative professional path of a private legal practice as a defense or corporate attorney. Being the selfless and unapologetic nationalist that he was, Paul chose the less financially rewarding and sometimes thankless professional path of public service.
He endured the discomfort of living in a fish bowl, subjected to the glare and scrutiny of a relentlessly bias media and the rush to judgment by a sometimes impatient court of public opinion. Paul appreciated that these arrows and darts from every angle came with the territory of political leadership and nation building, but his conviction that freedom, justice and democracy can only endure with the prevalence of the rule of law remained his fundamental guiding principle and shaped his legacy of excellence, integrity and fairness in public life.
As Attorney General, Mr. Adderley led the way in modernizing the laws of the newly independent Bahamas – laws befitting a free, modern, democratic country.
He formed and shaped the philosophical foundation of our current foreign policy – a policy based on"mutual co-operation and friendship with our neighbours but always within the context of the principles of self-determination and sovereign independence" as our leader Rt Hon Prime Minister so eloquently stated.
As Minister of National Security, who could forget the wide range and sweeping anti-drug trafficking policies inclusive of the hugely successful OPBAT interdiction operation advanced by Mr. Adderley? This operation was critical in reducing drug trafficking through the Bahamas to an "irreducible minimum" by the early 1990's according to a US government report on regional drug trafficking.
As Education Minister, Paul worked tireless with the Bahamas Union of Teachers and other education stakeholders to raise academic standards in the school system and instituted sweeping education reform with the migration from the London-based GCE standardized examination to the current and local BGCSE standardized examination that is more inclusive and broader in scope with regard to measuring the academic competencies of our high school students.
Paul served as a parliamentarian from 1962 to 1967 and from 1972 to 1997. He also served as minister of the government for thirty continuous years, from 1972 to 1992.
My brothers and sisters, time does not permit me to properly chronicle the achievements of a very accomplished son of the Bahamian soil.
So on behalf of the office of the Nation Chairman of the Progressive Liberal Party, on behalf of my wife, Hartlyn, and on my own behalf, I extend deepest condolences to Mr. Adderley's widow, Lilith, and their three children, Catherine, Roseanne and Paula and the rest of the Family.
May his soul and the souls of all the dearly departed, rest in peace.