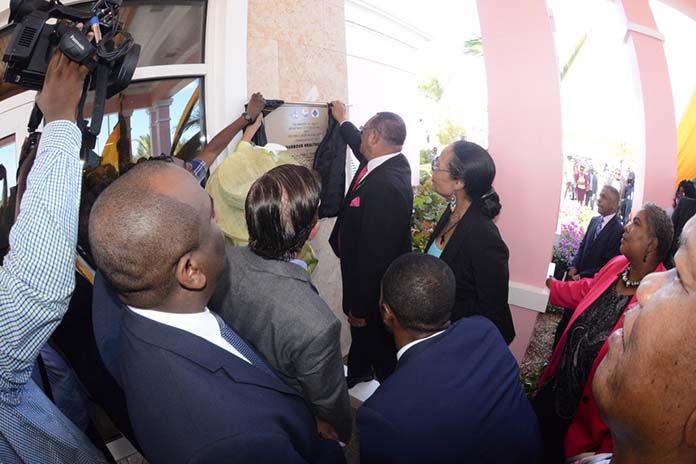 MARSH HARBOUR, Abaco, The Bahamas — During the Official Commissioning Ceremony for the state-of-the-art Marsh Harbour Healthcare Centre, on April 19, 2017, Prime Minister and Minister of Finance the Rt. Hon. Perry Christie quoted Former Prime Minister of Barbados the Rt. Hon. Owen Arthur by saying, 'for he who has health has hope; and he who has hope has everything.'
"One of the primary responsibilities of a government is to ensure access to quality healthcare for its people, irrespective of geography, social standing, age, race, gender, religious, social or political affiliations," Prime Minister Christie said, during the event held on the island of Abaco. "In The Bahamas, as you have heard, the provision of healthcare is becoming more and more complex, more and more costly and, in fact, it is changing."
The Marsh Harbour Healthcare Centre is a purpose-built primary care and secondary care facility that not only houses upgraded triage, examination, treatment, emergency, laboratory, pharmacy and storage areas, but it also will house expanded linkages for enhanced tele-health/telemedicine platforms that will ensure the highest quality care for patients.
It spans 32,000 square feet, and it will enhance the services provided to Abaconians and the more than 80,000 stopover visitors and second home owners who frequent Abaco each year.
When speaking on The Bahamas as a whole, Prime Minister Christie said that a network of some 95 public health clinics, situated in or near communities all across the archipelago, record approximately half a million visits each year from persons seeking primary care and or out-patient care. This high demand for service from The Bahamas' public health system, he noted, reflects one of the most pressing reasons the nation must evolve on the issue of healthcare delivery.
"In recent years, my government has spearheaded an intensive effort to reform our national health platform, in an effort to realize the essential values of a modern public health system — and that is access, quality, equity, affordability and sustainability," Prime Minister Christie said.
He added that following a prolonged period of evaluation, examination, consultation and public discussion, his government has determined that the implementation of universal coverage, through a phased national health insurance program, is the best and most sustainable path toward the improvement of healthcare care delivery in the nation. He reiterated that the initial rollout of the country's National Health Insurance (NHI) programme would focus on the delivery of primary care services through a network of public and private primary care centres.
"This has demanded a significant investment of resources in the renovation, refurbishment and upgrading of public health clinics all across the country," Prime Minister Christie said.