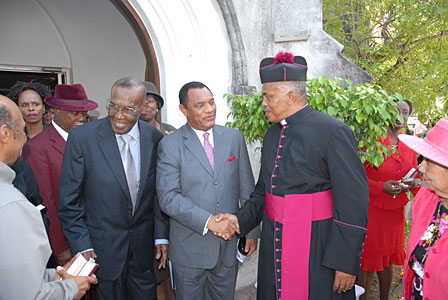 Rector of St. Agnes Parish Fr. I Ranfurly Brown was arraigned for assault. Brown Pleaded NOT GUILTY! Our advise to Brown; Don't shake Christie's hand again. The next time it could be worst! Christie is BAD LUCK FADDA!
According to a report coming into BP a blogger said the following when a report on Bowleg's son was posted. Bowleg's son caused a police chased through the streets of the capital:
"BP, I want to tell you that you should go talk to Father Brown at St. Agnes and let him tell you about another sex scandal involving this same Fr. Bowleg and the daughter of an FNM Minister who was caught polishing somebody's knob on the church property. Fr. Brown, [allegedly] according to my sources, caught the couple in the act. Both were teenagers. He gave the lil gal [allegedly] one b***** slap and the gal got her mother and Fr. Bowleg to call the police on Father Brown. Father Brown explained the situation and Bowleg still told the mother to press charges. That man is a criminal in the cloth and they should lock him and his criminal son up together. Don't take my word for it BP, go to the source and confirm it," The blogger wrote.

Also happening today was the report of a third murder in two days occurs in Nassau. Listen to reports below.
Click to Listen Gems News Tonight – 1