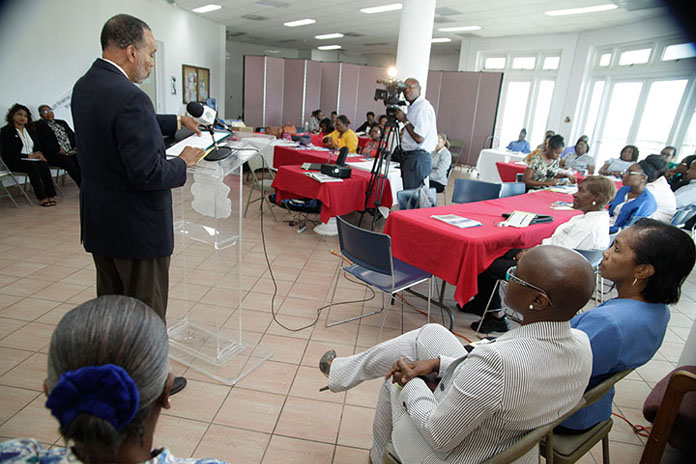 NASSAU, The Bahamas – The reported cases of food-borne illnesses in The Bahamas are trending downward at a rate of 35 per cent due to the work of the Surveillance Unit of the Department of Public Health, Ministry of Health, and collaborations with local, public and private stakeholders and regional and international partners.
Addressing a three-day Advanced Food Safety Training and Certification "Train the Trainer" Workshop at the Ministry of Health, Chief Medical Officer, Ministry of Health, Dr. Glen Beneby said the workshop is part of the Ministry's ongoing proactive approach to ensuring continued better healthcare outcomes in a number of areas crucial to the local healthcare sector – both public and private.
Dr. Beneby applauded the efforts of public health nurses, particularly those attached to the Surveillance Unit, Department of Public Health, and local medical and other personnel for their "outstanding work".
(The Workshop is facilitated by the Caribbean Public Health Agency (CARPHA) in conjunction with the Ministry of Tourism and the Ministry of Health.)
"This is indeed laudable. As we share this history of achievement, we appreciate the fact that the future requires continued vigilance for all public health threats, and the strengthening of systems to provide early warning detection," Dr. Beneby said.
"Though our country data for 2015 indicates a 35 per cent reduction in the reported cases of food-borne illnesses over its peak number of 863 cases in 2013, we must work diligently to realise even further reductions.
"Much of this work is manifested in our collaborative engagement with public, private and international stakeholders. On the local front, productive engagement with our stakeholders in the tourism and hotel industries namely Sandals, Meliá, Breezes, Hilton, Atlantis and Comfort Suites, in the first instance, has resulted in greater sensitisation and need for such surveillance mechanisms," Dr. Beneby added.
Dr. Cherita Moxey, Department of Public Health, said the "Train-the-Trainer" Workshop allows for continued collaboration between public health officials, private sector partners, individuals and communities, which she said is key to ensuring the well-being of the population.
Dr. Moxey said while the healthcare sector plays a role in clinical medicine and the essential public health functions, it is all of society – all agencies, all governments, all individuals, all communities that must play a role in the well-being of its population.
(Workshop participants included representatives from the Department of Environmental Health Services, Meliá Nassau Beach Resort, Super Club Breezes, British Colonial Hilton, Sandals Royal Bahamian Resort, Atlantis and the Ministries of Health and Tourism).
"Today represents for us, a deepening appreciation of that fact that the well-being of our nation resides with each agency sitting here with each individual, with each community.
"Today also represents adding another layer to our surveillance and national security armour. It represents our strong networks with regional and international counterparts and it represents us collectively moving another step towards the well-being of our people, our borders and our economies," Dr. Moxey added.