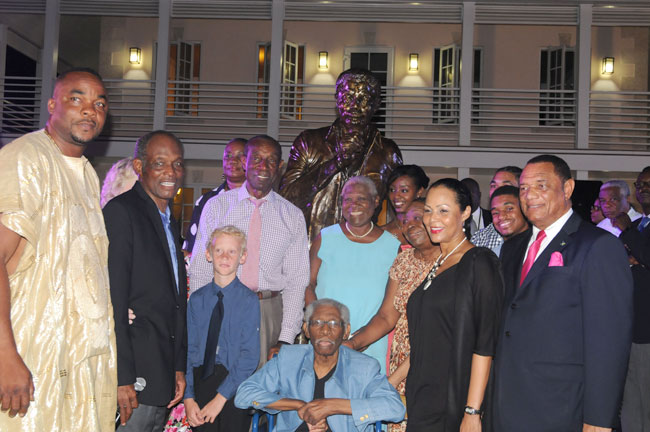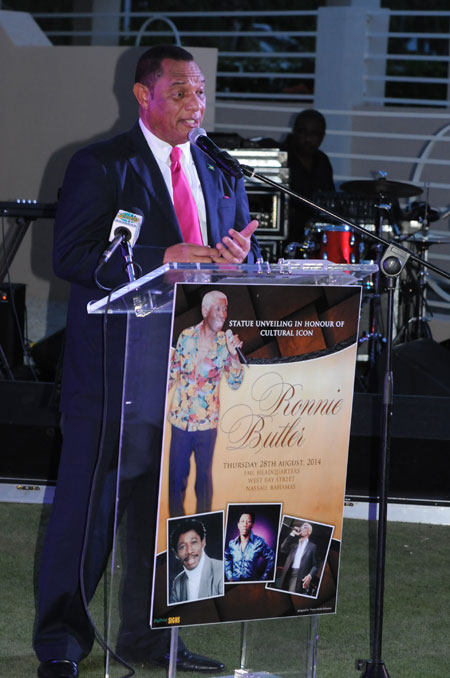 Nassau, Bahamas – Prime Minister, the Rt. Hon. Perry Gladstone Christie, delivered remarks during a ceremony for the unveiling of a statue honouring Bahamian Entertainment icon, Mr. Ronnie Butler. The event was held on the grounds of Craig Flowers Corporate Headquarters on West Bay Street, August 28, 2014.
Mr. Butler is a Bahamian calypso and rake 'n scrape entertainer and singer, whose career spanned more than 50 years. His career as an entertainer began at the age of 16, and he is commonly referred to as 'The Godfather of Bahamian Music.'
He has performed in memorable local night spots including: Ronnie's Rebel Room, the Trade Winds Lounge, Big Bamboo and the Nassau Beach Hotel in addition to venues throughout the Caribbean, Europe and North America.
Among his most popular hits songs are "Burma Road," "Pretty Brown Eyes," and most recently his single "Married Man," which was featured in Tyler Perry's, Why Did I get Married Too? which was filmed in The Bahamas in 2010. Mr. Butler's many contributions and achievements were recognized in 2003 when he was made a Member of the Order of the British Empire.