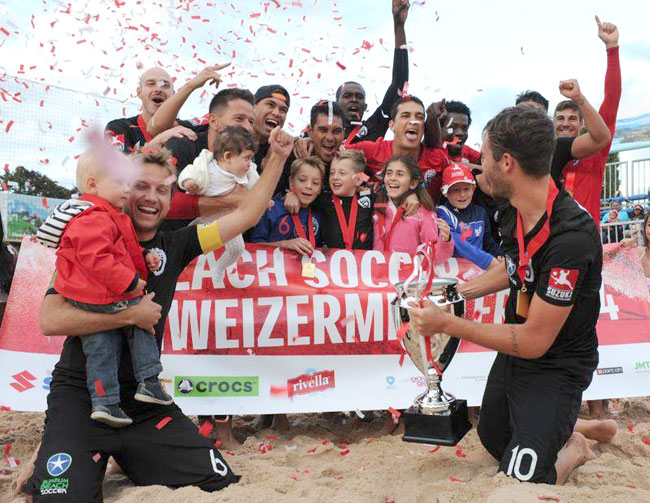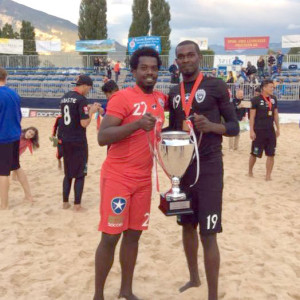 Ehren Hanna and Christopher Davis, two Bahamian Beach Soccer National team players successfully completed their stint with BSC Sable Dancers Bern in the Suzuki Swiss Beach Soccer League. The season had already begun when the two natl's arrived but that did not deter the positive impact they had on their team. In their debut match both players earned their place on the number one club team of Switzerland.
Hanna who is the alternate for Labaste (last year's top goal scorer) scored two goals and had two assist in the match. Davis also completed the match with several assist. From there the two were constantly in camp with the team where the trained daily sometimes twice a day. Besides their usual club training the pair has trained with the Swiss National Team and Paulo Balico a former World Kick Boxing Champion. The club consist of 5 Swiss national team players, 5 Tahiti national team players and the two Bahamian national team players. Switzerland is rank #8 and Tahiti is ranked #4 in the world. Their club team coach Angelo Schrinzi, is also the C.E.O/Founder of Swiss Beach Soccer, Coach of the Swiss National Team and Coach of the Tahiti National Team. "Ehren and Chris have improved tremendously this summer. They have learned new techniques and developed their overall technical ability and have maintained satisfactory role performances on the team. They have learned a lot about and from the league. We look forward to seeing them again soon and working with Bahamas Beach Soccer."
"As soon as we arrived we had to immediately adjust to world class level of play with teammates and no-nonsense coaching of Angelo Schirinzi" Davis said. "It was an honor to train with Swiss national team, training and playing against the likes of players like Noel Ott (2014 MVP European Beach Soccer League) and Dejan Stankovic (2009 World Cup MVP & Golden Boot Winner. " Every training session and game was a significant learning experience. I felt privileged to play with and against some of the elite beach soccer players in the world on a daily basis. We have learnt a ton our 9 weeks here and are extremely excited to return home and hit the ground running!" Davis "We can see and feel the improvement in each other's game" Davis said. The Suzuki Swiss Beach Soccer League featured players from Morocco, France, Italy, Romania, Bahamas, Hungary, Jamaica and Trinidad.
"Our season here was great! Our training and playing experience has been the best being amongst some of the world's best players! We have developed immensely as players and administrators/facilitators and we are excited to be back home so we can continue to develop Bahamas Beach Soccer. There is so much potential for the sport in our country not only for Bahamians to play on a world class level but also for the Bahamas to facilitate world class events. We look forward to working with the national team and Quality Beach Soccer Club and Camps so that in 2015 may the Bahamas could introduce its own Beach Soccer League." Hanna expressed. "We would like to thank God firstly for putting us in position, The Bahamas Football Association, Angelo Schrinzi, Swiss Beach Soccer and Sable Dancers, the members and fans of Quality Beach Soccer Club, The Ministry of Sports, Coach Roberto Cecilianos, our family and friends who have supported us.