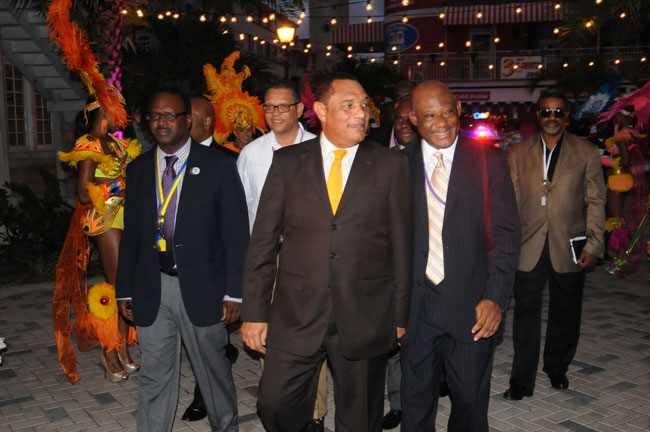 Nassau, Bahamas – In less than one year, the country will be welcoming another form of cultural expression when the Bahamas Junkanoo Carnival debuts in May 2015. During an official ceremony launching the event at Pompey Square on Wednesday, August 27, Prime Minister, the Rt. Hon. Perry G. Christie, expressed his optimism for the event.
"I am very pleased that we will be soon be able to showcase even more of our country's culture via this new event," said the Prime Minister. "Not only is this a great opportunity for Junkanoos, artisans and other craftsmen to display their wares and talents but it also offers us the opportunity to provide additional entertainment for guests who visit our shores."
The event featured several forms of entertainment including dance performances by the Junkanoo group, Colours, headed by Mr. Chris Justilien; a tribute to the 'Obeah Man,' fire dancing, musical selection by Visage and promotional material provided by the Ministry of Tourism.
The Bahamas Junkanoo Carnival is a new event on the Bahamian social calendar. It will be an annual event spanning five weeks and will kick off on Easter Monday. The period will feature a series of activities including concerts, cultural shows, balls and street parades, which will depict all aspects of Bahamian culture and heritage. During the period, one week will be set aside and will be known as Carnival Week. The first Bahamas Carnival Week is scheduled for May 3-9, 2015. During Carnival week, four major events will be staged. A Commission headed by former Banker, Mr. Paul Major, will oversee the Bahamas Carnival.