Elections! Elections! Elections!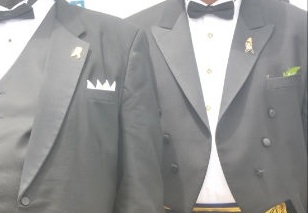 Royal Eagle Lodge's elections, of tonight, are set to go down in the history of the Prince Hall Order as the most "Masonically Bloody Act" to ever take place. All swords are drawn as Masons of that Order are meeting in pockets all over the island plotting to take control of the lodge by storm.
Worshipful Master, Uriel "Rabbie" Johnson, who plays "Ali Baba" in the infamous play, "Ali Baba and the 40 Thieves" is refusing to leave office even though his time is up. Johnson has cut the number of his gang from 40 to about 5 which includes the former Worshipful Master Juan "Love Sick" Bethel who gave him his chance at robbing Royal Eagle blind when he started his reign of TIEFIN' TERROR by nominating him to be Worshipful Master when he vacated his position.
Brothers in that lodge have risen up against "Rabbie Ali Baba" and are refusing to have him for a third year. They have prepared a letter, written by the rude, biggety, journalist, sister/girlfriend of the Love Sick former Worshipful Master, which tells the Grand Master they will not come out to lodge meetings and shut down Royal Eagle if "Rabbie Ali Baba" is returned as Worshipful Master. The biggety journalist was convinced by the Royal Eagle brothers that "Rabbie Ali Baba" was not good for the Order.
BP found out that "Rabbie Ali Baba" was going from place to place telling lies that the brothers of his lodge were forcing him to stay on another year. His lies came to haunt him when everyone started comparing notes and all came to the conclusion that they wanted "Rabbie Ali Baba" GONE from Royal Eagle Lodge.
Somewhere out East good Masons are finalizing plans to FINALLY take over the lodge and take up the positions that are so rightfully theirs – making sure to shut out the Masonic disgrace known as "Rabbie Ali Baba". What in da hell is dis?? It gern down tonight!
"Rabbie Ali Baba" should never have sat in the position of Worshipful Master as BP has said before. This man has no fixed employment – claiming to be self employed. He has ten children by eight women, was never married and was shot TWICE. He is also known to have VERY sticky fingers. What manner of man is this??
BP said before that there is a dark horse who will show up and shock the very foundation of the Royal Eagle Lodge Temple tonight. While groups are all over town planning, this dark horse walks around in the dark and in silence waiting on the moment to reveal itself. Everyone trusts this dark horse so it knows the plans of all the brothers who are planning to take over the lodge. Moving to the "East" will be easy for this dark horse who will gain the respect of the craft by being able to pull off such a skillful, deadly and silent plan.
BP will be present at elections tonight and will have a FULL REPORT mins after the new Royal Eagle Cabinet is named.
We report! Yinna decide TONIGHT! So Mote It Be!!