VAT PSA 15 from King Of Hearts Media on Vimeo.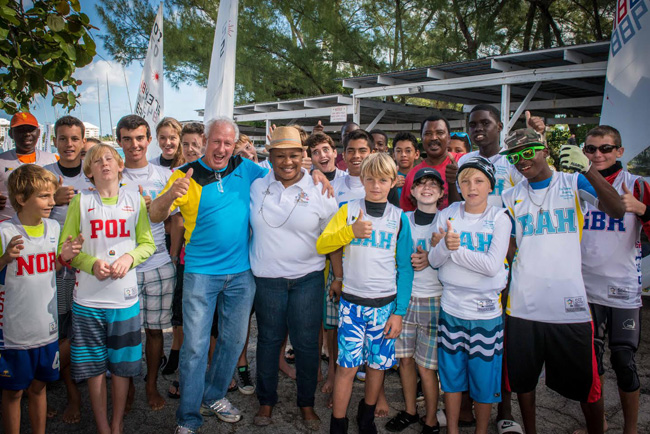 NASSAU, Bahamas – Twenty youngsters ages 12 – 16, members of the junior division of the Bahamas National Sailing Club, 'mixed it up' on the high seas of Montague Bay over the weekend with a number of world class champion sailors. Competing over the last four days in the world Finals of the Star Sailors League in waters off the Nassau Yacht Club (NYC), several of the champion sailors showed the youngsters winning skills and maneuvers in the Star Class sail boats.
Robert Dunkley director and coach of the Bahamas National Sailing Club and Sindy Gay, Regatta Desk Chief in the Ministry of Agriculture and Marine Resources which has local sailing and Regattas in their portfolio of responsibilities, are pictured with the young sailors.
The Nassau Yacht Club was ground zero for the 2014 Championship Finals of The Star Sailors League where sailors competed in four days of racing, December 2nd through 6th. The USA team of Mendelblatt and Fatih took first place followed by Loof and Ekstrom of Sweden, Kusznierewicz and Zycki of Poland came third and Zarif and Boening of Brazil came fourth.
A local and world-wide fan base watched every game-plan tack 'ring-side' via Virtual Eye internet technology accessed through the web site www.starsailors.com
Tidbits: VAT Rates from King Of Hearts Media on Vimeo.