VAT PSA 15 from King Of Hearts Media on Vimeo.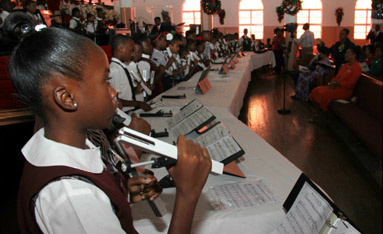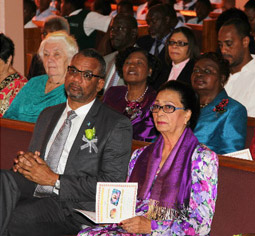 NASSAU, The Bahamas – Hundreds of students representing public and private schools throughout New Providence celebrated the yuletide season with song, dance, drama, and band performances during the Festival of Carols Wednesday, December 3 at the Church of God of Prophecy on East Street.
Organized by the Ministry of Education, Science and Technology, the event paid tribute to the late Jewel Dean, Senior Education Officer, Performing Arts, in the Department of Education and coordinator of the Festival for 17 years, who passed away in September. In addition to a moment of silence in her honor, Performing Arts educators remembered her with the spirited selection entitled "Canticle of Joy," directed by Dr. Flo Carter-Gittens of C.I. Gibson School.
The students told the Christmas Story on the theme, "Jesus a Child, but Yet a King," as they displayed their talents before an audience including Governor-General Her Excellency Dame Marguerite Pindling; Minister of Education, Science and Technology the Hon. Jerome Fitzgerald; Bishop Hulan Hanna; ministers of the Gospel, principals, administrators, senior government officials, teachers, parents and well-wishers.
In his greetings, Minister Fitzgerald said the festival sets the tone for Christmas and the students represent the hope and success for the future.
"I am certain Jewel Dean would have been proud of the efforts and the execution of the students who performed so wonderfully particularly [music] by the bell ringers, a passion of hers," he said.
Minister Fitzgerald told the students it is important to strive for excellence, and that they had a powerful and wonderful opportunity to show love to family, friends, neighbors, and strangers at this time of the year.
Minister Fitzgerald commended Benjamin White and Sonovia Pierre, chairpersons, and the organizing committee of the event. He thanked the administrators, teachers, support staff and volunteers who served throughout 2014 and he acknowledged the students for their efforts in the festival.
Other highlights of the Festival included a combined school choir performance entitled "Gloria" led by Lorenz Burrows of C.V. Bethel High School, and a dance by Thelma Gibson Primary School students directed by Shanique Collie-Sweeting. Yonell Justilien led a band selection by Magnet Schools entitled "Christmas Finale"; H.O. Nash Junior High School performed Spanish and French Carols; and the dance and choir troupe of Garvin Tynes Primary School entertained with "Who Could Imagine A King".
Other performances were the Combined Primary Choir Chimes led by Natalie Bain of T. G. Glover Primary; Nassau Christian Academy School's choir selection "Unto the Lamb"; and a dramatization by students of Government High School.
Tidbits: VAT Rates from King Of Hearts Media on Vimeo.