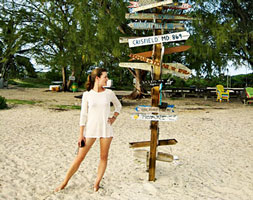 by Klara Glowczewska
If there were an award for Most Glamorous Archipelago, the Bahamas—a 700-cay-rich island-nation floating in the Atlantic—would surely win. On the other hand, they'd probably scoop up Most Diverse, Most Fashionable, and Most Convenient, as well—Nassau, the capital, is a mere half-hour flight from Miami.
Of course, our love affair with these isles is nothing new. By the early twentieth century, Americans fleeing Prohibition at home were arriving via cruise ship in droves. In the 1950s and '60s, the country became the playground of aristocrats, millionaires, and movie stars, and by the 1990s, Sol Kerzner had bought Paradise Island and created Atlantis, the ultimate fantasy for kids of all ages. Movers and shakers love coming here to unplug—Shakira has settled in Nassau, and Johnny Depp has found a family escape on a 45-acre cay in the Exumas, presumably a reward for his blockbuster piracy.
Today, the 23 inhabited islands of the Bahamas still have that same inimitable blend of seclusion and glitz, wilderness and polish, and sun and sand that have been beckoning beachcombers for decades. We sussed out the very best of these islands to find an experience to satisfy every taste, whether your idea of a great vacation means lounging poolside with a drink in hand or (gulp) diving with sharks. So what are you waiting for? All you have to do is grab the SPF and go.