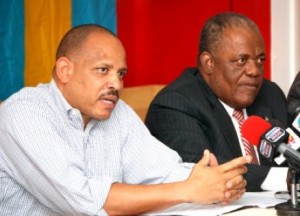 Sands Campaign Workers pickup and abandons the Bad FNM Candidate for Lizzy
Nassau, Bahamas — This week in the Senate Duane 'thin-skinned" Sands apparently got upset with BP as he apologized to his wife Sakina and Dr. Friday in what he described as the lowest of the low attack hurled against a politician.
The Thin-Skinned bad FNM candidate for Elizabeth has a very short memory. Just a few days earlier in the Parliament he invoked the protection of that place to slam charges against former Housing Minister Shane Gibson, all of which was proven false in a report by the Auditor General of the Bahamas.
Now get this, when will the bad candidate for Lizzy find out everybody isn't dumb? We, the Bahamian people, are not crazy either. We all know rock throwing in this country has a boomerang effect, and it is your problem if you fail to know that. You cannot expect to throw stones and not expect them to come back at you. HOW FOOLISH!
It is like calling the people of that eastern constituency "Greedy", and in the same breath, you seek to knock on their 'Greedy People Doors' asking for their votes. IMAGINE THAT!
Thin-Skinned should be asking the people of Elizabeth for forgiveness not votes.
In fact, just this week, his campaign took a turn for the worse. Despite the fact that Bahamas Press is giving him a royal CUT-YINNER-KNOW-WHAT these days, a group of his campaign workers followed Sakina's valentine example and have packed up their political campaign bags, vowing never to return.
One former supporter of Sands told BP, "I didn't know he threw out of her home, a single mother of five on the coldest day of winter. If I had known that, I would not have set foot into his constituency office. HE HAS NO DAMN SHAME!
"Talk about steady hands, he needs to go find a doctor and check out his CRAZY HEAD! And he needs to take Papa with him!"
Interestingly, following our reports, Sands – at least has for now – has stopped, reviewed and cancelled his Friday appointments.
We report Yinner decide.
PS: Paging Dr Sands – You could take out an entire supplement in the Tribune, Guardian, Journal, The Freeport News and in the PUNCH, but all them together cannot stop the ROYAL EDITORIAL CUT-HIP we gat in store for your [BLANK]…MORE TA COME!