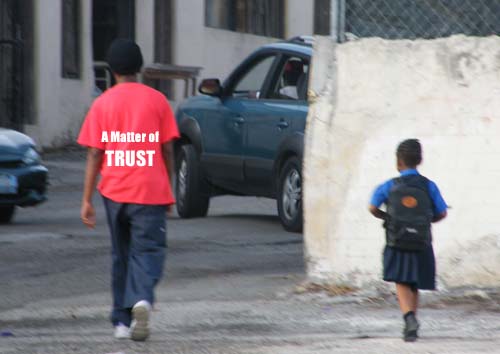 Tough times hit Bahamians  hard in 2008.
Nassau, Bahamas: Last year was a rough year. The PLP was out of power, and their "PUSSY CAT" still in charge, like a clingfish. Whilst the FNM won the government in May 2007 on the verge of HOPE for a bright tomorrow for thousands of Bahamians. Ahhh well, and we say the rest is history!
It took the FNM only 7 months to cripple this country's economy, which slowed to a crawl. Some persons have waited for Standards & Poor's report in December 2008, 18 months later, to accept the damage done by Hubert Ingraham's STOP, CANCEL and REVIEW policy. This is what we at Bahamas Press have said about Ingraham's management of the people's money from in 2007, but so be it.
Isn't it AMAZING that still today, there are no reports on the growth of the Bahamian economy 12 months after Laing said it would grow?
Isn't it SHOCKING no one is reporting sales of homes or household goods for 2008, nor construction figures or tourism figures for 2008?
Isn't it just SO QUIET in this town when it comes to figures of tourist arrivals or household expenditures for the year 2008? And where is government revenue in all this?
Well, the S&P report only confirms what this BLOG has said for over 12 months that the WUTLESS FISCAL MANAGEMENT of Hubert Ingraham has proven to be BAD for the Bahamas. We have preached on here for months that it was INGRAHAM who has done this to the Bahamian people, NOT BUSH!
Ingraham STOPPED and CANCELLED $90 Million in capital work contracts for the country in 2007, which deepened the current economic situation for The Bahamas.
Ingraham fired over 1,200 temporary government workers including a single cripple mother of two babies in 2007. The firing of which we said then, will ignite a trend throughout the country by private companies to firings more workers. And as we said, so did Baha Mar and Atlantis, then ColinaImperial, Breezes and Sandals, and many more purged their companies of workers throughout this country. They all followed Ingraham's lead.
Ingraham caused to happen with his review policy the cancellation of over $20 billion in anchor projects throughout the country. The FNM stopped Baha Mar and they stopped Ginn. Ingraham stopped the I-Group. Yes they stopped, and stopped and just stopped everything racing away INVESTOR AFTER INVESTOR long before the global economy took a down turn.
As a result Ingraham made it hard for carpenters, painters, masons, tile layers, electricians, plumbers and many contractors who could not find work after construction died in the country. YES INGRAHAM has done that to us in 2008.
And now the uncertainty has spread into the New Year with despair and gloom for thousands now sitting home and UNEMPLOYED! Has anyone noticed the hundreds of street sellers now on almost every corner throughout NEW PROVIDENCE? Or is it just Bahamas Press noticing this new brand of selling overtaking the country. A ride on the back strip of Cowpen Road one would discover lines of young persons selling peas and phone cards on the side of the road.
Or has anyone noticed "Miami 10th Ave." opposite the mall is really R.M. BAILEY Park not turned into a 'Colour Red' show, but transformed into a dual street mall this year? Or is it just Bahamas Press noticing all this? And with all these people now fighting to survive the WUTLESS MEDIA in this country will still find the gall to say, "CRIME IS DOWN, UNEMPLOYMENT IS STABLE AND THE ECONOMY IS DOING GREAT!" YEAH RIGHT!
Now this is despite the fact they have digested all what we and S&P have both said.
It is without question 2008 was a BAD year. It has been BAD for every child now "crying for food" whilst both parents are out of a JOB! "THINGS TOUGH" a junkanoo group on Bay Street echoed at the Boxing Day Parade, a fact that this arrogant government and members of the WUTLESS media have yet to accept! And as John Howard said, "Their arrogance runs like a tide of a river throughout the entire government!"
And so we say to you again, "THINGS TOUGH, WHAT YA GA DO!"
Happy New Year Bahamas Press family!