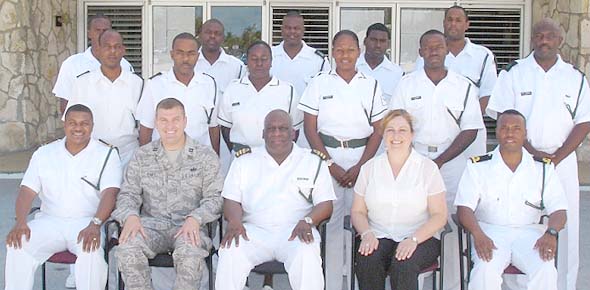 Members of the North American Aerospace Defense Command and U.S. Northern Command (USNORTHCOM) Public Affairs office hosted a Social Media exchange with the Royal Bahamas Defence Force (RBDF) at its base in Coral Harbour, July 27-28.  Attendees from both nations discussed innovative ways to utilize popular Social Media platforms such as Facebook and Twitter to better inform the public of the RBDF's ongoing initiatives aimed at protecting The Bahamas' national security.  The exchange was conducted as part of USNORTHCOM's mission to promote security cooperation throughout the region.
"It was an honor to have the opportunity to share our social media strategies, tactics and experiences with the Defence Force personnel," said Stacey Knott, NORAD and USNORTHCOM Public Affairs Social Media specialist. "My goal was to provide an environment where they could perhaps learn from both our mistakes and successes. I'm excited to see how their new programs evolve."
One of the RBDF attendees, Ablewoman Marine Monique Deveaux, said the exchange would help the Defence Force improve its Public Affairs operations.
"The exchange provided insight in how Social Media can be used as an asset to show our people how we 'Guard our Heritage' through a variety of missions," she said.
The RBDF's lead Public Affairs and Information/Technology officer, Sub Lieutenant Origin Deleveaux, added that while Social Media has been used personally by many of the Defence Force members, the exchange demonstrated how he could use the platforms to expand the RBDF's current operational and public affairs objectives.
"Social Media is not only relevant, but brings value to the things we want to achieve," he said. "I believe there is now a greater appreciation for Social Media within the Defence Force. We can see the power of it and how it can help us achieve our objectives of promoting our image of excellence."